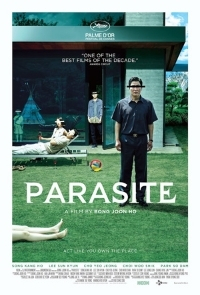 기생충 (Parasite)
Directed by: 봉준호 (Bong Joon-Ho)
Written by: 봉준호 (Bong Joon-Ho) and 한진원 (Han Jin-Won)
Starring: 송강호 (Song Kang-ho), 조여정 (Jo Yeo-jeong), 박소담 (Park So-dam), 최우식 (Choi Woo-sik), 박서준 (Park Seo-joon), 이순견 (Lee Sun-kyun), 정지소 (Jung Ji-so), 이정은 (Lee Jeong-eun), 장혜진 (Jang Hye-jin)
Genre: Black Comedy, Drama
Score: 5/5
기생충, which means Parasite, is one of the most powerful movies about wealth to arrive this century. From 봉준호 (pronounced Bong Joon-Ho), the director of Snowpiercer (설국열차), Mother (마더), and The Host (괴물), this film eclipses an already-great catalogue of creations.
Not the grim drama one expects from a film handling themes such as wealth and poverty, crime, slavery, sickness, violence, rage, loss, grief, and family, 기생충 is a black comedy blacker than deep space with true humor that makes one forget the larger film, if only for bits, as well as mystery, and even some horror.
The acting is sublime with chemistry smeared over every scene, and the writing is superb; the Korean script is unique in its native tongue, while the subtitles are well composed and accurately portray what's truly spoken.
The pace and structure are also perfect and the movie evolves and builds just as expectations are crushed and tumbling.
I really cannot overstate the greatness of this movie and am tempted to label it a masterpiece, but that will require several more viewings. For now it must settle with a perfect score. As of October, regardless of how great both Ad Astra and Once Upon a Time…in Hollywood were, this is the best movie of 2019, and one of my favorite films ever.