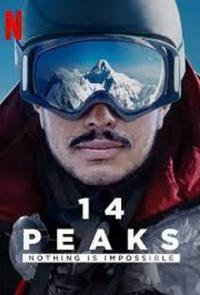 14 Peaks: Nothing is Impossible
Directed by: Torquil Jones
Written by: Gabriel Clarke and Torquil Jones
Starring: Nirmal Purja, Suchi Purja, Klára Kolouchová, Reinhold Messner, James Barber, Mingma Sherpa, Lakpa Dendi, Gesman Tamang, Garrett Madison, Don Bowie, Kamal Purja
Reviewed by: Brad Williamson
Genre: Documentary
Score: 4/5
Everyone knows about Mt. Everest, and most people know about K2, but it's uncommon knowledge outside of the climbing community that there are twelve other 8,000-meter peaks. In this way, the new Netflix documentary "14 Peaks" is aptly named.
The movie follows a Nepalese climber named Nirmal Purja and his team as they attempt to climb all 14 of these monsters in only 7 months. This makes him out to be an insane daredevil, but, as the film shows, he's anything but insane. Instead, I'd call him dedicated, loving, emotional, intense, and passionate.
But it's not simply Nirmal and his family that make the tale so fascinating. The cinematography is spectacular, matching any Hollywood blockbuster despite having no special effects. The shots, along with their personalities, and their mission, make for a one-of-a-kind experience.
The film does not go into the technical aspects of climbing, so those hoping for an educational treatise will not learn much. It focuses on the personal, cultural, and human aspects of Nirmal's quest and, in a broader sense, all Nepalese sherpas. I was enthralled from the first minute until the last and you will be too if you have any interest in amazing people, well-made films, or mountaineering. Highly recommended.