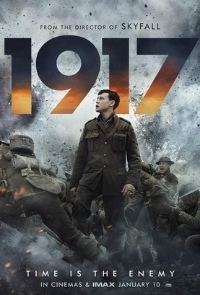 1917
Directed by: Sam Mendes
Written by: Sam Mendes and Krysty Wilson-Cairns
Starring: Dean-Charles Chapman, George MacKay, Colin Firth, Mark Strong, Benedict Cumberbatch
Reviewed by: Brad Williamson
Genre: War
Score: 5/5
From beginning to end, 1917 is a flawless film; it's also a beautiful contradiction. A war movie without severe violence, a single two-hour shot that never lulls, all with a tiny cast, 1917 is a special experience.
Whereas most war films go for shock value and brutal violence, Mendes masterfully takes us on a ride through the muck, grittiness, and depravity of war. It's heart-stopping, thrilling, captivating, and gorgeous while maintaining a modesty and honesty that both respects history and educates the present.
MacKay and Chapman are both great, but this feels like a complete breakout for MacKay, who is spectacular in his role as Lance Corporal Schofield. Whether he is calmly talking, worrying about his injuries and responsibilities, frantically running and shooting, showing utter exhaustion, he is fantastic in every scene.
The only thing better than Mendes's directing and MacKay's acting was Roger Deakins's award-winning cinematography, which is nothing short of monumental. His work is so fluid, the shots so intertwined with the story that it feels at times like Deakins co-directed the film with Mendes.
It is my opinion that this is the best war movie ever made and cannot grant it any less than a perfect score. Recommended for anyone and everyone.