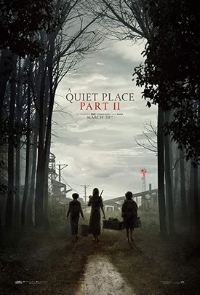 A Quiet Place 2
Directed by: John Krasinski
Written by: John Krasinski
Starring: Emily Blunt, Cillian Murphy, John Krasinski, Millicent Simmonds, Noah Jupe, Djimon Hounsou, Okieriete Onaodowan, Scoot McNairy
Reviewed by: Brad Williamson
Genre: Horror / Dystopian
Score: 2/5
This sequel to 2018's surprise hit is more of the same. That is, it's a well-made movie with some good scenes that fails to fulfill; the sum of its parts doesn't add up to a satisfactory whole. The introduction is fantastic, Murphy's performance is wonderful, and many of the creatures' special effects are top-notch, but after barely more than 80 minutes I left the theater unimpressed, feeling like I'd seen nothing but two episodes of a good television show.
The plot, though simplistic, leaves gaps between the two movies. Everything is vaguely explained in an almost off-handed manner. It is easy to understand all the details eventually, but they're poorly explained. I'd seen the original, but only once, and throughout the beginning of this movie I felt either confused or unsatisfied. I felt like I was missing something, that I needed to go and watch the first again, but a good sequel should not rely so heavily upon its predecessor. It was haphazard and ultimately incomplete in its storytelling and worldbuilding.
Murphy and Millicent Simmonds are the stars of this film. Krasinski and Hounsou barely have enough screen time to matter, Noah Jupe is decent but forgettable, and Emily Blunt overacts to her heart's content. I did think Millicent's performance was impressive, an improvement over her role in the first film, and Murphy was outstanding as always, but a movie about Murphy and Simmonds trying to be quiet is nothing more than a decent Walking Dead episode.
My final thought when the credits rolled on this film was, "That's it?" I was startled by the suddeness, brevity, and lack of content A Quiet Place 2 offers. I don't feel like I wasted my money, but I wasn't exactly thrilled to have paid to view it. I can't recommend it, but fans of horror, creature action, and dystopian settings might enjoy it enough to get their money's worth.