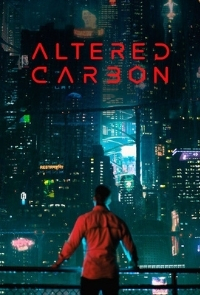 Altered Carbon Season 2
Created by: Laeta Kalogridis
Written by: Nevin Densham, Richard Morgan, Alison Schapker
Starring: Chris Conner, Renée Elise Goldsberry, Anthony Mackie, Torben Liebrecht
Reviewed by: Brad Williamson
Genre: Action, Science-Fiction
Score: 1.5/5
As a huge fan of science-fiction, I can be shamelessly entertained; much as I enjoy them, I don't need the next Blade Runner, Dune, or Space Odyssey to love a futuristic tale. Still, Altered Carbon fails in almost every aspect.
The acting is flat, boring, and even annoying. Mackie is the big name and is better than his co-stars, but still no more than decent. Torben Liebrecht occupies too much screen time as the nationalistic soldier with no reasonable motivation and no connection to the viewer. Renee Elise Goldsberry wants to be Michonne so badly yet falls far short of Danai Gurira's amazing persona. Chris Conner displays the best acting as Poe, but he is such a minor part of the show that his performance hardly redeems all the other inadequately portrayed scenes.
Yet even with the sub-par acting, the plot is by far the loudest misfire of the season. There is no purpose throughout the arc, barely a thread of connection to the first season, and no storylines developing to make season three worth anticipating. It doesn't enhance anything from the first season and it doesn't introduce anything new or interesting. The story is a bore, which is unfortunate because it does do a few things well.
Primarily, its action and cinematography are worthwhile, even captivating at times. It's just a pity these times are too short and far between.
The first season wasn't great, but it set up season two with a nice assist for growth. Then season two let that assist slip right through its hands and got hit in the face by the ball.
Fans of science-fiction probably won't despise it, but the show definitely has a limited demographic. I can't highly recommend it, but I can't tell you not to watch it either. I was disappointed and didn't enjoy it, but there may be some who appreciate it.