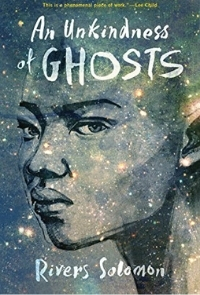 An Unkindness of Ghosts
Written by:  Rivers Solomon
Reviewed by:  Joe Bones
Genre:  Science-Fiction
Score: 3.5/5
Full disclosure: I went into An Unkindness of Ghosts with some trepidation. I chose to read this book as part of the 2019 Read Harder Challenge. It fit two different tasks, 'a book by a Trans or non-binary author' and 'a book about or set in space by an Author of Color.' I was pleasantly surprised by how much I enjoyed this sci-fi character study.
This novel's premise is quite sophisticated. The story takes place on a spaceship traveling to a new world. The spaceship is fleeing a destroyed planet and its crew and passengers have been traveling through space for generations. The population of the ship is divided into a caste system based on the share-cropper system of the Antebellum South. The story centers around Aster, a medic with advanced knowledge of chemistry. Her knowledge combined with her rebellious nature make her a formidable foe against the corrupt powers in charge of the spaceship.
The novel also deals with a lot of complex themes, including racism, classism, sexuality, and gender identity. Even though the author is a Trans individual and an AOC, the exploration of these themes never feels ham-fisted or pandering. They blend seamlessly into a narrative framed within a sci-fi setting.
As much as I enjoyed this novel overall, I did have a few complaints. There are three chapters that are flashbacks, each of which centers around one of the side characters. I think they're meant to flush out the character development but none of the content in these extra chapters is very compelling. I actually liked the doctor character better before I read his off-shoot chapter. I didn't feel like the chapter dedicated to him deepened my connection to his character. These extra chapters also broke up the main narrative in an unsatisfying way.
My other complaint with this novel was that I wanted some more world building. Solomon gives enough detail about the ship and its population to give the reader a "road map" of where Aster is on the ship and some of the motivations for her actions. However I wanted more. I think Solomon could have delved deeper into the history of the ship and especially given us more details of the caste system by which the ship's population has been divided.
Despite my complaints An Unkindness of Ghosts was a very compelling read. Its story is a unique take on the "humanity fleeing a desolate planet in a spaceship trope" from an author with a distinctive voice. If you're a fan of science fiction and are looking for something new or different, I recommend giving this book a chance.