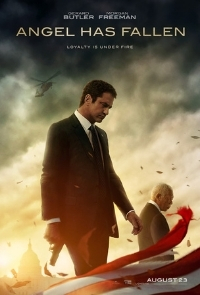 Angel Has Fallen
Directed by: Ric Roman Waugh
Written by: Robert Mark Kamen, Matt Cook, and Ric Roman Waugh
Starring: Gerard Butler, Morgan Freeman, Jada Pinkett Smith, and Lance Reddick
Genre: Action
Reviewed by: Rob Leicht
Score: 1.5/5
Angel Has Fallen is the third installment in Gerard Butler's action franchise following Olympus Has Fallen (2013) and London Has Fallen (2016). Stamped with the same general action movie template as the two previous films, the conclusion to the series now has Gerard Butler's Mike Banning on the run after being framed for attempted assassination of the POTUS. I actually enjoyed the preceding movies for what they were, mostly forgettable action flicks, but Angel Has Fallen fails to meet that already low standard.
The former films in the series had the talent of Morgan Freeman, Aaron Eckhart, and Angela Bassett to counteract Gerard Butler's mediocre acting ability. Morgan Freeman is the only holdover in Angel Has Fallen, and he spends most of the movie hospitalized off screen. The things that you would expect to be the highlights of the movie, action sequences and fight scenes, were too often repetitive and confusing. Even the visual effects fell flat, particularly the collapse of a hospital building, which I found to be comparable to a low budget made for TV movie. The best part of the movie was easily Nick Nolte's role as Gerard Butler's kooky off-the-grid living father.
Verdict: Don't waste your time. If it is a must see for you, wait a few months until it is on Netflix.