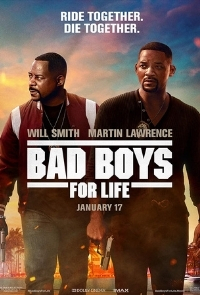 Bad Boys for Life
Directed by: Adil El Arbi and Bilall Fallah
Written by: Chris Bremner, Peter Craig, and Joe Carnahan
Starring: Will Smith, Vanessa Hudgens, Alexander Ludwig, Martin Lawrence, Paola Nuñez, Kate del Castillo, Joe Pantoliano, Charles Melton, Jacob Scipio
Reviewed by: Brad Williamson
Genre: Action, Comedy
Score: 3/5
It's almost impossible to believe Bad Boys came out in 1995; that was 25 years ago. At the time of its release, Will Smith could still be seen on new episodes of The Fresh Prince of Bel-Air. With all those years between offerings combined with the lackluster nature of the first two movies, my expectations for this were so low I almost didn't catch it in theaters. But I'm glad I did.
Will Smith was solid and Martin Lawrence was funny. The script was decent and the movie made sense. The framework of the film is nothing we haven't seen before, but it was done with a well-rounded plot in mind.
Probably the best part of the film was the choreography. The car chases, shoot outs, and sudden violence were sharply filmed, reminiscent of the brutal urgency that has made the John Wick movies so popular. It was far from a perfect film, but these scenes on the big screen were well worth admission.
I would love to say more about the movie, but there just isn't much to talk about, which is where it falls short of being better than a slightly above average flick. There's no depth, much of the humor, while funny, feels cheap, the characters are shallow, and many of the scene transitions are clunky, especially toward the end when the movie is winding down. Though I was able to enjoy the movie for what it is, I would not call it great; it is merely a decent action movie that you won't regret paying for, but you probably won't remember it in six months either.