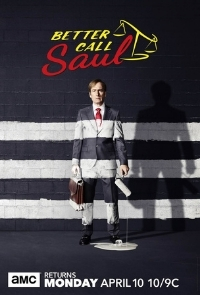 Better Call Saul: Season 5
Directed by: Vince Gilligan and Peter Gould
Written by: Vince Gilligan and Peter Gould
Starring: Bob Odenkirk, Jonathan Banks, Rhea Seehorn, Patrick Fabian, Michael Mando, Giancarlo Esposito, Kerry Condon, Mark Margolis
Reviewed by: Brad Williamson
Genre: Drama / Thriller
Score: 4.5/5
As Better Call Saul goes on, it only gets better. With every season, episode, minute, and scene, the plot constricts and the tension rises. And season 5 is no different. If you ever doubted that a Breaking Bad spin-off could live up to the original, don't worry; my bold take here is this: Better Call Saul actually surpasses Breaking Bad.
My only question is how much longer the show has. Toward the end of season 5, it feels like the black-and-white montages are converging with the plot and we could see the finale of the show soon as next season. This does raise questions, like will the show end as wonderfully as Breaking Bad? Will it be satisfying? Will it close all the plot holes, or will we actually need to prepare for a second spin-off? Time will tell, but for now, a few things are already certain:
The acting is unbelievable, on par with any Emmy- or Academy Award-winning performance. Across the board the characters, dialogue, and personas are perfectly casted, orchestrated, and executed.  The plot also moves along quickly and satisfyingly throughout this season, as do the surprises, and, yes, the comedy. It has everything and disappoints no one.
Highly recommended and is a contender for the best show on television at the moment.