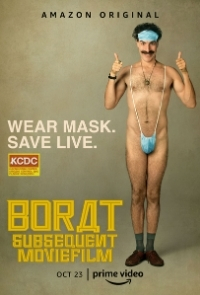 Borat: Subsequent Moviefilm
Directed by:  Jason Woliner
Written by:  Sacha Baron Cohen, Peter Baynham, Jena Friedman, Dan Mazer, Dan Swimer, Lee Kern, Erica Rivinoja, & Anthony Hines
Starring:  Sacha Baron Cohen, Maria Bakalova
Reviewed by:  Rob Leicht
Genre:  Comedy/Mockumentary
Score:  3/5
If you have yet to see Borat: Subsequent Moviefilm you might be wondering if Sacha Baron Cohen can do it again. Surely there is no way people will fall for his schtick, Borat has become a part of our pop culture and is known world-wide. Well, for better or for worse, this is exactly what you would expect out of a new Borat movie. Thanks to some ridiculous costumes and a sensational performance by Hungarian actress Maria Bakalova, Cohen is able to fool enough people to make the sequel work. And while Borat: Subsequent Moviefilm falls well short of the original's greatness, it is still some of the best cringe-worthy comedy out there.
The film's premise revolves around Borat being sent back to the United States to deliver a gift and gain the favor of President Trump on behalf of his home nation of Kazakhstan. The gift, to be delivered to Vice President Pence, turns out to be Borat's 15 year old daughter Tutar, played by the aforementioned Bakalova. Although Cohen has never been shy about uncovering and poking fun at the worst parts of American culture, he is definitely pushing more of a political agenda here. Which makes sense – the shocking racism that he captured on film in 2006 has gone mainstream. Now, 14 years later, white supremacists run the country, and there are bigger fish to fry than your common racist.
The plot itself is thin and serves little more than to shuffle Borat and Tutar from gag to gag. The gags though are almost all hilarious, capturing the absurdity of politicized America along the way. Particular highlights include quarantining with a pair of QAnon conspiracy nuts and a visit to a Christian family planning center. A visit by Borat to a synagogue was unexpectedly heartwarming. Bakalova is surprisingly every bit a match for Cohen. She is a star in the making.
For some, Borat: Subsequent Moviefilm may shed light on some uncomfortable truths. Others may become further radicalized or disenfranchised. Still others will declare it fake news and liberal political propaganda. This film will be loved or hated with very little in between. Regardless of which side you fall on, Sacha Baron Cohen's Borat is imminently captivating – like a car crash, you can't seem to look away. Very nice!