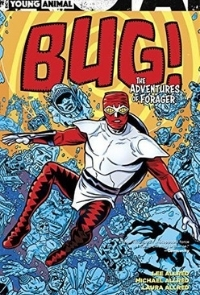 Bug! -- The Adventures Of Forager
Written by: Lee Allred
Art by: Mike Allred
Colors by: Laura Allred
Reviewed by:  Joe Bones
Genre:  Comic / Science-Fiction
Score: 0.5/5
In an industry as old and varied as comic book publishing, a person doesn't come by the moniker of 'King' very easily. It takes working in the industry for half a century. It takes single-handedly writing and drawing your own monthly comic series, sometimes completing several in the span of one month. Most importantly, it takes changing the way stories are told through sequential art in comic books. By mastering all of these qualities, Jack Kirby truly earned himself the nickname: The King of Comics. In honor of what would have been Kirby's one-hundredth birthday, DC Comics put out a variety of one-shot specials and mini-series, each featuring characters created by The King. Bug! – The Adventures of Forager, published under the Young Animal imprint, was the most unique of these projects.
Bug! – The Adventures of Forager is a reminiscent romp through Kirby's DC bibliography. It features characters from the Fourth World, the original Sandman, The Losers, and Atlas the Great. Forager, the titular Bug, must fight his way across a multitude of Kirby-created worlds to thwart the main villain. As far as Wikipedia and myself can tell, this is the first time Forager has been the lead character in a series. Once you get past the enjoyment of seeing some of these characters brought back for the modern era, and the spotlight being shone on Forager, this comic quickly falls apart.
The plot is confusing and the story is erratic. It seems author Lee Allred is making an attempt to put a modern spin on Kirby's characters, while trying to write dialogue in a style similar to how Kirby wrote these characters when they were originally created. Allred also tries to inject wit into the dialogue, in what seems to be an attempt to turn what should be an adventure comic, into an action/comedy. None of it works, and as a result all the story elements feel disjointed, character development falls by the wayside, and jokes fail to land as the reader struggles to keep up with what's happening on the page. Allred somehow manages to make his dialogue both fast-paced and word-heavy. Quips are meant to be short, not tacked onto the end of a four sentence word bubble. Plus all of this is done in a dated vernacular, in a misguided attempt to match the style of speech common to the various decades in which the characters in the story were created.
One interesting thing I will say about the creative team, is that this mini-series is truly a family affair. Lee Allred and artist Mike Allred are brothers; colorist Laura is Mike's wife, and frequent collaborator. Mike Allred specializes in pop art, and that artistic sensibility really lends itself to the story line's extra-dimensional, Sci-Fi wackiness. However, although his artistic style helps him render cool settings and static characters, his action scenes are really messy. Most of the fights don't have flow from panel to panel, and it is often difficult to discern what's happening in these sequences. Especially because they often occur around speech bubbles that have to be over-sized to fit all the dialogue. Laura Allred's color choices also add to the disjointed overall feel of this mini-series. Yes, the colors pop and complement Mike's artwork, but if this creative team really wanted to make a book that felt like a Kirby creation, they should have stuck to the simple color palettes common in the Silver Age of Comics.
Bug! – The Adventures of Forager is an incoherent mash up of fifties and sixties Sci-Fi elements, Kirby created characters, and pop art. If you are interested in any of those individual elements, you might find something you like about this mini-series. If you grew up reading Kirby's comics, it's probably best to avoid this comic, because in my opinion it does a great disservice to The King. For newer readers who want to check out some of Jack Kirby's DC work, I suggest The Fourth World Omnibus. Or for a modern take on Kirby's characters check out Mister Miracle by Tom King or Justice League: The Darkseid War by Geoff Johns.