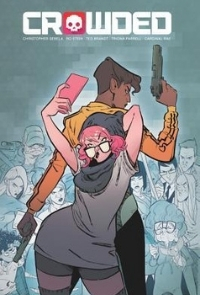 Crowded: Volume I - Soft Apocalypse
Written by: Christopher Sebela
Line Art: Rob Stein and Ted Brandt
Colors: Triona Farrell
Letters: Cardinal Rae
Reviewed by: Joe Bones
Genre: Science-Fiction / Graphic Novel
Score: 3.5/5
Crowded is a piece of graphic speculative fiction that examines where the current "gig culture" nature of employment could be heading. In the world of Crowded, food delivery and driving services are thriving. Society has taken these job share apps to the next level; through the Reaper app, people can put out hits on their enemies, and any user can become an assassin. Charlie wakes up one morning to find that someone has used Reaper to place a million-dollar bounty on her head. Desperate, she uses the Dfend app to hire professional bodyguard Vita to protect her. With Vita's help, Charlie has to figure out who put the hit on her or survive until the contract expires.
I loved the contrast between the two main characters. Charlie is the definition of a hipster. Conversely, everything about Vita, from her house, to her car, to her clothes, is old school. One thing they have in common, both women are very complex characters. Bits and pieces of their backstories are slowly revealed as the narrative moves forward. I really enjoyed all of the side characters as well. The kill teams and renowned assassins that come out of the woodwork keep things interesting, both for Charlie and Vita, and for the reader. My favorite character and a great source of cute and comic moments was the chihuahua that circumstances force Charlie and Vita to adopt.
Crowded also features a lot of cool futuristic versions of modern technology, including: completely digital currency services and automated customer service, holographic alarm clocks, and view screens set into restaurant tabletops. The Reaper app also represents a unique play on crowdfunding that inadvertently revolutionizes American politics. I won't spoil that plot point with specifics, but it's a well thought out spin on the world with which we're familiar.
The art team has a talent for drawing expressive faces. Even when no dialogue is present, the reader is able to follow the events of a scene based solely on the characters' emotions. I really liked Vita's character design. Her androgynous look was well-suited for her character and her occupation. The action sequences are drawn well, too. The action and violence is made all the more over the top by the cartoon-y nature of the illustrations.
Crowded is a really fun comic, and this volume collects the first six issues of this Einser Award-nominated series. The story has elements of both action and science-fiction. It also shines a new light on technologies from our world, and where such advances could possibly lead our society, though it does so in a tongue-in-cheek way. The artwork helps punctuate the emotional moments and brings the action sequences to life. This comic has something all readers will enjoy, but will especially appeal to fans of science-fiction.