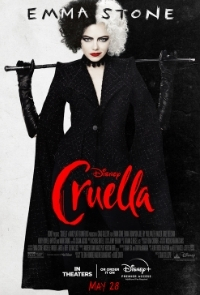 Cruella
Directed by: Craig Gillespie
Written by: Dana Fox and Tony McNamara
Starring: Emma Stone, Emma Thompson, Mark Strong, Joel Fry, Paul Walter Hauser, John McCrea, Emily Beecham, Kayvan Novak, Kirby Howell-Baptiste, Jamie Demetriou
Reviewed by: Brad Williamson
Genre: Crime / Remake
Score: 2.5/5
The Disney remakes have been very hit or miss, and Cruella is more of the same. With a great many problems, but equally numerous charms, the film reimagines this classic villain in a new light.
And in this new light, fashion takes center stage. The middle of the film is undeniably well conceived, beautifully filmed and constructed, and exciting; the beginning and end, however, lag behind the ingenuity and edge that the melding of fashion design and film production gives us for 40 minutes, sandwiched between the cliched introduction of stale characters and boring conclusion that fails to connect this Cruella to the Cruella we know from the original animation.
Emma Thompson as the Baroness is fantastic as always, and Stone is fine as Cruella, but no one else aside from John McCrea stands out. Mark Strong is also solid, but his role is so small that he isn't able to add anything to the movie. The fashion, dogs, and plot overshadow the acting, which is fine, but the plot really needed to connect this remake to the original film better for this technique to truly succeed.
Instead, what we're left with is a few really fun scenes and some awesome fashion anchored by a forgettable cast, lackluster writing, and pointless direction. The movie has its moments and is not terrible, and fans of Disney will want to see it to satisfy their curiosities, but few people will love this movie. I cannot recommend it more than to say you probably won't completely regret that you viewed it at the cinema.