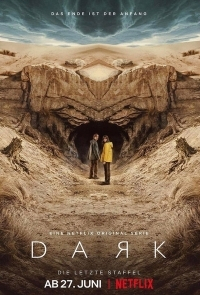 Dark: Season 3
Directed by: Baran bo Odar
Written by: Baran bo Odar, Jantje Friese, and Marc O. Seng
Starring: Louis Hofmann, Karoline Eichhorn, Lisa Vicari, Maja Schöne, Stephan Kampwirth, Jördis Triebel, Andreas Pietschmann
Reviewed by: Brad Williamson
Genre: Science-Fiction / Mystery
Season Score: 3.5/5
Show Score: 4.5/5
The third and final season of Dark leaves none of its many questions unanswered, is well-made in nearly every facet of production, and is one of the most philosophically interesting pieces of art created this century; it is also strangely disappointing.
The first two seasons are so great at presenting the paradox of time travel in a novel way, but season three pivots from this thematic element of its predecessors. It feels like a different show. It isn't bad by any means, but it is neither what I was expecting nor desiring.
The show is structured such that it's difficult to talk directly about moments within season three without spoiling parts of the first two seasons, so I'll just leave it at these succinct season-by-season descriptions:
Season 1
A very original show that at times feels like it struggles to find exactly what it wants to be. Still, very good, one of Netflix's best acquisitions.
Season 2
One of the best seasons of television ever made. Original, great acting, spectacular writing, beautiful sets, mystery, suspense, confusion, and everything you could ever want from a show. A masterpiece that everyone needs to watch.
Season 3
A departure from the first two seasons that still manages to answer all its questions. The writing, acting, and production quality equals previous seasons, but the thematic division between seasons one and two and season three is almost too much of a jolt. Still, a good season, and in many ways a satisfying conclusion. I just feel they could have taken it in a different direction.