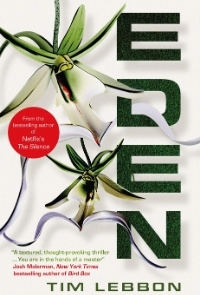 Eden
Written by:  Tim Lebbon
Reviewed by:  Rob Leicht
Genre:  Science-Fiction / Thriller
Score:  1.5/5
Thank you to Penguin Random House for the advance copy of Eden by Tim Lebbon in exchange for an honest review.
With a setting reminiscent of Jeff Vandermeer's Southern Reach trilogy, I was excited to read Tim Lebbon's Eden. The book follows a group of adventure runners as they infiltrate and trek across one of the world's oldest Virgin Zones. Left mostly untouched for decades, the zone has reverted to a primitive state and has no intentions of letting the group cross unmolested.
As the book began, I found myself enjoying the slow immersion into the world. Unfortunately this feeling faded quickly. The pacing of Eden is glacial, and over half the book has passed before the conflict really gets going. As a whole, the book lacks the tension and unease that I had looked forward to and expected from an eco-thriller novel. The group of adventurers' primary conflict is with wild animals and nature itself. Though the animals see the group as prey, so the violence returned is understood, in some ways this makes the story more tragic than terrifying or thrilling.
While I feel it is unfair to compare Lebbon's entry to Southern Reach based upon setting alone, I can't help myself, and Eden suffers in comparison. Lebbon's setting fails to come alive, in part the result of a simpler writing style versus Vandermeer. The same can be said regarding his characters. None of the non-POV characters feel like real people. Even the motivations of the two POV characters are unclear, and there is a surprising lack of depth in all facets of the story. If forced to describe Tim Lebbon's Eden in one word, I would find it an easy choice: disappointing.