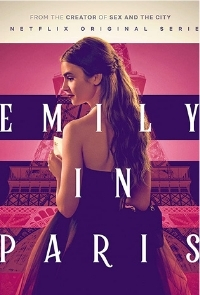 Emily in Paris
Directed by: Andrew Fleming
Written by: Darren Star, Sarah Choi, Deborah Copaken, Jen Regan
Starring: Lily Collins, Philippine Leroy-Beaulieu, Ashley Park, Lucas Bravo, Samuel Arnold, Bruno Gouery
Reviewed by: Brad Williamson
Genre: Drama
Score: 1.5/5
Emily in Paris chronicles a young woman's move from the United States to Paris, but the problem here is that I've just described the entire plot. Full of menial dialogue, unlikable characters, and an aimless storyline, this is not one of Netflix's better offerings, and that's being gentle.
The acting in general is average, but Lily Collins in the lead role fails to impress. Nor does the character of Emily offer anything of interest. Both the acting and character development of the protagonist are shallow, boring, and pointless. Instead of exploring cultural differences, homesickness, or individuality through the eyes of a young woman, the show instead uses the character to portray a series of stereotypical jokes, dull relationships, and irrelevant supporting characters.
Both the title and plot of the show would have you believe Paris plays a major role in the events, but it doesn't. Furthermore, Paris, and French people in general, are characterized as dirty, unkept, lazy, mean, arrogant, disloyal, and sex-crazed. A look into French society from an American perspective makes an interesting premise, but there is no honest examination here, only flippant causes of meaningless effects.
Not recommended for anyone except hardcore fans of Sex in the City who are willing to watch anything remotely similar.