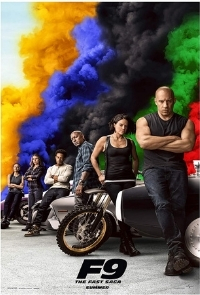 F9
Directed by: Justin Lin
Written by: Daniel Casey and Justin Lin
Starring: Vin Diesel, Michelle Rodriguez, Jordana Brewster, Tyrese Gibson, Ludacris, Nathalie Emmanuel, Charlize Theron, John Cena, Finn Cole, Sung Kang, Anna Sawai, Helen Mirren, Kurt Russell
Reviewed by: Brad Williamson
Genre: Action
Score: 2/5
By this point you know what to expect from this series. F9 — and trust me, I feel ridiculous typing that as the official title — delivers these expectations, but if you're looking for something more you'll be disappointed. I've unabashedly enjoyed some of these films, and even this one wasn't horrible, but the series has arrived at its logical end. There isn't anything else to do with the characters or the cars, and the storytelling feels exhausted.
The film wasn't without its few charms and expected-but-still-funny laughs, but with a runtime of almost 150 minutes, repeated talk of family that we've heard a million times, and outrageousness taken to a new level, I caught myself thinking of other things and even drifting off prior to the end.
The cast isn't too bad, and some of the action is well done and entertaining, but a series can only make so many installments without going in new directions before it loses its charm. The biggest fault with F9 is the lack of freshness. There are no new heroes, no new villains, no new ideas — it is recycled.
Fans of action movies and cars will be able to enjoy this movie, or just movie fanatics with free time, but the average person won't like this film. I didn't love it, but I didn't hate it. That said, I can't recommend it too highly, either.