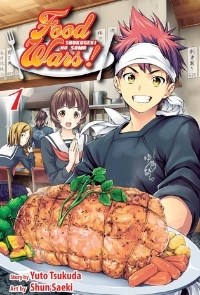 Food Wars: Volume I - The Endless Wilderness
Story by: Yuto Tsukuda
Art by: Shun Saeki
Translated by: Adrienne Beck
Lettering by: NRP Studios
Reviewed by:  Joe Bones
Genre:  Manga
Score: 3/5
Soma Yukihira wants to become Japan's greatest chef. After years of apprenticing in his father's restaurant, he's sent to the prestigious Totsuki Saryo Culinary Institute. To get in, he must impress Erina Nakiri, the youngest member of the school's governing body, the Council of Ten Masters. Erina has one of the most developed and highly respected palates in all of Japan. If Soma can't impress her with his cooking, his dreams of culinary stardom will be over.
I don't read a lot of manga. Even though I know most of it is meant for adults, in my head most titles seem like they are written for either a younger audience or readers of all ages. It was with this mindset that I read Food Wars Volume I. After reading only a handful of pages, this perception was completely shattered (in a good way); page five, for example, features a splash page that can only be described as soft-core tentacle porn. I really liked the characters, but I found the story in this first volume to be lacking. The main narrative focused too much on exposition, making the overall story progression feel very slow.
It was Saeki's art that really sold me on Food Wars. At first, the artwork gives the reader the impression that this series is going to be drawn like a standard manga. Instead, Saeki sprinkles cool touches throughout the entire book, elevating the story to the next level. The artwork truly embraces the phrase "this food is orgasmic." There are a lot of cool visual representations of how the other characters feel when they eat Soma's food. Saeki also does a lot of detailed close up drawings of cooking techniques. These detailed illustrations are accompanied by visual onomatopoeia. For example, a "hiss and sizzle" when a pan is deglazed, or a "shake shake" as Soma adds salt to a dish. All of these touches set Food Wars apart from other manga I've read in the past.
I love reality competition television shows, especially those with cooking. I would love to see more of a competition aspect in future volumes. That being said, with characters this strong, Tsukuda can take the story in any direction and it will still make for a fun manga. With Saeki on art duties, that sentiment rings even truer. The dubbed Food Wars anime has recently made its way to the United States. Before you give the show a watch, consider reading the manga. It's a fun read, and anime/manga fans are sure to find something about it they will enjoy.