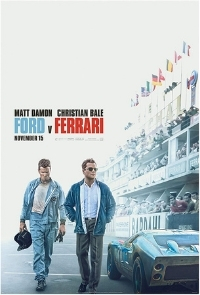 Ford v Ferrari
Directed by: James Mangold
Written by: Jez Butterworth, John-Henry Butterworth, Jason Keller
Starring: Matt Damon, Christian Bale, Jon Bernthal, Tracy Letts
Reviewed by: Brad Williamson
Genre: Biopic / Sports
Score: 3.5/5
I usually write my movie reviews soon after watching the film in question, but Ford vs. Ferrari presented a perfect storm of uncertainty.
A major cause of this was the 4DX venue, so I'd now like to comment on the format. It is expensive, so I rarely pay for it; additionally, I can't watch 3-D movies, so it's the 2-D 4DX for me, which, surprisingly, is no misnomer. In my experience, watching a movie in 4DX increases one's opinion of the film immediately after viewing. It is exciting, and the right movies become theme park rides. Adrenaline flows, making it difficult to fairly and correctly write about the film because certain aspects overwhelm others due to the motion, moisture, and additional visuals that don't usually accompany movies. This is especially true for Ford vs. Ferrari. The racing scenes are spectacular in every way. Even now, though, I don't know if this was due to great cinematography or the 4DX theater. In the end I can only comment on what I saw, what I experienced, and that was some of the best vehicular scenes in the history of cinema.
The acting was also good. Damon was confident, Bale equipped with his strange yet believable accent.
But the script and plot present more confusion, which is often the case when judging biopics. Can a movie be original while detailing a true story? Of course it can, but is this one? Likewise, I disliked some of the plotting decisions, but can that really warrant negative grading when it's what actually happened? The pacing was also good, but is it right to credit the filmmakers for this when they were just telling the story in the order already told? Though it is possible to accomplish these things, even in a biopic, Ford v Ferrari feels too mechanical at times, too ordered, like a book put on the screen without even changing dialogue.
I loved Ford vs. Ferrari, but I loved it less a week after viewing than upon leaving the theater; and even slightly less now than a week after watching. But still I think it is a good film. Any fan of history, racing, or good acting will enjoy it.