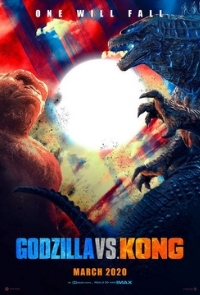 Godzilla vs. Kong
Directed by: Adam Wingard
Written by: Eric Pearson and Max Borenstein
Starring: Kaylee Hottle, Alexander Skarsgård, Millie Bobby Brown, Rebecca Hall, Brian Tyree Henry, Shun Oguri, Eiza González, Julian Dennison, Lance Reddick, Kyle Chandler, Demián Bichir, Hakeem Kae-Kazim
Reviewed by: Brad Williamson
Genre: Action / Monster
Score: 4/5
From beginning to end, this movie appeals to action movie lovers, monster maniacs, conspiracy theorists, and unbiased fans of film. Is it the greatest action movie ever? No. Is it a well conceived film with amazing effects, pretty decent acting (the best coming from child actress Kaylee Hottle, who, from this movie alone, I say is on her way to being a star), and a focused plot? Yes. It's the definition of a popcorn flick, but it's also surprisingly emotional. At this point in the pandemic, with all the films that have been delayed or released straight to streaming services, I would have been happy just to see an average monster movie, but this blew away my expectations in becoming something memorable.
Much credit must be given to director Wingard's vision of what a Godzilla Vs. Kong movie should look like, a perspective that has been missing throughout many of the other monster pieces from recent years: Godzilla and Kong are actually the main characters. It's not a movie about people experiencing the monster attacks or trying to stop them; instead, Wingard transforms both Godzilla and Kong into main characters with emotions, drives, responsibilities, fears, loves, and purpose, emphasizing the monsters' true selves through peripheral humans.
And Kaylee Hottle, despite her youth, must have understood Wingard's vision perfectly, must have seen it in her mind clearly as he saw it in his, for she is absolutely spectacular as the mute friend of Kong, Gia. Never standing in the way, yet stealing the screen with every appearance, her performance is Oscar worthy. Whether she is displaying some of the best-acted tears in the history of cinema, sign language that comes across as being real, or an aura beyond her years, it becomes impossible not to be impressed and excited about her career.
The special effects are, as expected, impressive, but they are also used sparingly. In combination with the beautiful sets and jaw-dropping close-ups, everything works cohesively and none of the action is overdone. The fighting and destruction never for a moment overshadow Kong or Godzilla the characters.
I imagine some people will complain about the hollow Earth stuff, but they have no imagination. I also imagine some people will complain that Kong has no chance against Godzilla, but they obviously didn't watch the movie, because this very topic is touchingly addressed in the film. 
The movie is beautiful, exciting, and fulfilling. Go watch it.