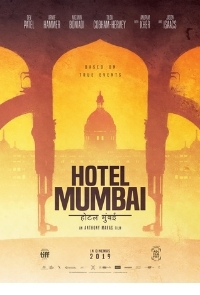 Hotel Mumbai
Directed by: Anthony Maras
Written by: John Collee and Anthony Maras
Starring: Amandeep Singh, Suhail Nayyar, Manoj Mehra, Dinesh Kumar, Amritpal Singh, Kapil Kumar Netra, Dev Patel, Nazanin Boniadi
Reviewed by: Brad Williamson
Genre: Biopic
Score: 2/5
This movie gives viewers a look at the real story behind the Taj Hotel terrorist attack that occurred in Mumbai in late November of 2008, and the people who experienced it first-hand. This retelling is brutal, showing the attacks in realistic and bloody detail, but, and with no disrespect to the fallen or their families, the film falls short of becoming the grand tribute that great biopics are capable of.
The acting was uneven. Some of the cast was fantastic, most were good but forgettable, and a few were awful; the terrorists, instead of becoming villains with motives, were merely props with which to keep the movie honest. It was difficult to watch the gory murders, but it was difficult because they were so violent, not because I cared about the characters being killed. The writing also felt bumpy. It wasn't bad or cringe-worthy, and a few parts were eloquent, but my overall feeling toward the script is that someone wrote lines for specific characters in mind, not for the whole movie or plot.
The real events of course occurred in this location, but instead of feeling claustrophobic and tense, as one expects from such a film, the movie felt narrow-minded and boring. While I did go on to research the events and learn about them in more detail than I previously knew, which the film deserves credit for, I don't feel as if the movie itself serves as a proper homage – or even as an exciting war flick – for the fallen or families involved.
These events were truly tragic and this movie shows that. But it fails to address the individuals, the city's mood, or police and military actions. Sure, all these things are included, but I wish they'd been explored instead of glossed over. Reading about and researching these attacks is advised, but I cannot in good conscience recommend this film.