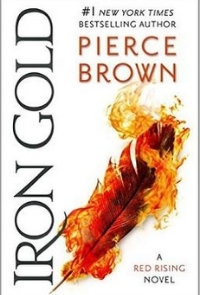 Iron Gold: Red Rising - Volume IV
Written by: Pierce Brown
Reviewed by: Brad Williamson
Genre: Soft Science-Fiction / Action
Score: 3.5/5
Sometimes labeled as volume four within Pierce Brown's Red Rising saga, Iron Gold is in many ways the first book of a completely new series. Still, despite being planned as two different trilogies, Red Rising can also be viewed as one massive six-volume epic. However, it's not simply a new cover theme and fresh characters that separates the trilogies. Whether you look at Red Rising as one big story or two separate tales, one thing is certain: Brown changed a lot going into Iron Gold.
First, Brown has overhauled his narrative style. The book continues Red Rising's first-person present prose, but chapters are now divided by perspective, most notably similar to Song of Ice and Fire, the Hyperion  and Endymion  sagas (which obviously inspired much of Brown's writing), and Iain Banks's Culture novels.
He does this brilliantly and seamlessly, but I think spreading the narrative among four characters instead of focusing on only one as is his typical style has leached much of the urgency and rabid pace which has made Red Rising so wonderful. The story lulls between each character with fun and interesting scenes, yet fails to gather the energy the previous novels harnessed so powerfully.
Iron Gold, while great, was much less exciting than its predecessors; but it was also more philosophical. Despite Brown's breakneck pace, all the books have been thoughtful, but with Iron Gold it feels like he exchanged a bit of wild rage for purposeful contemplation. It definitely separates it from the first three books, and is difficult to adjust to for lovers of the original trilogy.
Iron Gold is also less based on action, with more plot and preparation. This would normally be okay, but I feel like two of the four plots were, in the end, unnecessary. I liked much of this unnecessary content, but for the first time in a Pierce Brown story I felt it was just a bit too fluffy. I've come to love his directness, bluntness, brutality, and devastating groin kicks; this obscure slow dance was a shock to the system in many ways.
All that said, this is a good book: the characters both new and old, the settings, the world, it was full of stuff fans of Brown's works will enjoy, and it promises a good future for Red Rising. Recommended.