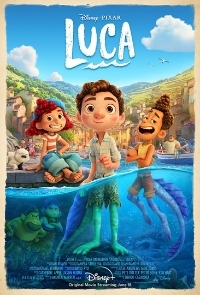 Luca
Directed by: Enrico Casarosa
Written by: Jesse Andrews & Mike Jones
Starring: Jacob Tremblay, Sacha Baron Cohen, Jack Dylan Grazer, Emma Berman, Saverio Raimondo, Maya Rudolph, Marco Barricelli, Jim Gaffigan, Peter Sohn, Lorenzo Crisci, Marina Massironi, Gino La Monica, Sandy Martin
Reviewed by: Brad Williamson
Genre: Animation / Fantasy
Score: 4/5
A new Pixar movie is always a special event, but depending on who you ask you'll get varied opinions regarding their offerings in recent years. I believe the studio is strong as ever, giving us some of their best films in recent years. The pandemic restricted viewers of Onward and Soul, but make no mistake: both films were fresh, genuine, and worthy of the Pixar name. Luca is no different.
Pixar has entered the ocean before, with Nemo and Dory, but Luca is their first humanoid foray into the world beneath the waves. Admittedly, I was worried about this film because the previews were unimpressive, but in the end I appreciate how little information the previews spoil regarding the main plot, story, and characters. Nothing is worse than having the best minute of a film revealed out of order before you even sit down to view the movie.
The freshness of the sea is not the only new perspective Luca gives us, either; this is also Pixar's first look at Italian culture. Making his feature-length directorial debut, storyboard artist and short film director Enrico Casarosa stuns us with a touching blend of adventure, beautiful animation, deep characters, young love, genuine comedy, and authentic culture.
In addition to the themes, I particularly enjoyed the characters' interactions and conflict resolution employed by writers Jesse Andrews and Mike Jones. Everything flows naturally, with highs and lows, but nothing gets out of control. You won't find the emotional roller coaster of Up, the stunning animation of Soul, or the psychological evaluation of Inside Out, but Luca offers a subtle look at family, friendship, and identity that is uniquely its own.
Though Luca ultimately doesn't place among the very best of the Pixar pantheon, it is a solid movie made with love and care that everyone will enjoy for a variety of reasons. I was not disappointed in the least and will eagerly look forward to Mr. Casarosa's next creation.