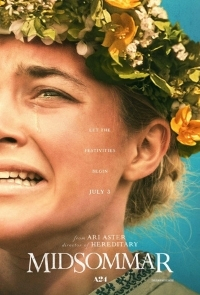 Midsommar
Directed by: Ari Aster
Written by: Ari Aster
Starring: Florence Pugh. Jack Reynor, Will Poulter, William Jackson Harper, Vilhelm Blomgren, Ellora Torchia
Genre: Horror / Cult
Reviewed by: Brad Williamson
Score: 3/5
This is the second full-length feature from the exciting new horror director Ari Astor, following his controversial but undeniably spectacular "Hereditary". With "Midsommar", he remains firmly entrenched within the horror genre, and even within the cult sub-genre, but we begin to see his true leanings and inspirations here; as so often happens, following a successful mainstream (mainstreamish in this case) debut, the director is given more freedom with the second offering. Less mainstream, more shocking, much slower, and more environmental, this film seems like something cobbled together between Wes Anderson, Lars von Trier, and George A. Romero.
The cinematography and acting throughout is splendid, near masterpiece-quality, but something seems to hold the film back. The first half is great, tense, and well-made, and appears well-conceived, until the introduction never returns to significance and the relationships displayed fail to evolve, deteriorate, or improve. Instead they simple disappear, without resolution.
I definitely liked this movie and my respect for Astor grew with it, but the slowness, lack of tension in the second half, and unsatisfying last hour feels like a rimmed-out slam dunk by a promising young lottery pick.
Still, grisly, emotional, beautifully shot, and brilliantly acted, "Midsommar" achieves much of what it seems to have set out to accomplish. The only true disappointing thing about this film is that we have to wait until Astor's next movie to see if he'll finally achieve that true masterwork that he already seems constantly on the verge of creating.