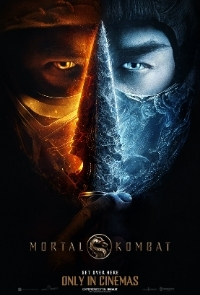 Mortal Kombat
Directed by: Simon McQuoid

Written by: Greg Russo and Dave Callaham
Starring: Lewis Tan, Jessica McNamee, Josh Lawson, Joe Taslim, Mehcad Brooks, Matilda Kimber, Laura Brent, Tadanobu Asano, Hiroyuki Sanada, Chin Han, Ludi Lin, Max Huang 
Reviewed by: Brad Williamson
Genre: Action
Score: 2.5/5
Everyone going to watch Mortal Kombat knows what they're about to see, and this film doesn't disappoint hardcore fans. Still, the lore of Mortal Kombat is fun and interesting, and consistently underutilized; while this reboot is a romp through the characters and themes of the franchise, it ultimately fails to build what could have been a solid foundation for an awesome universe of films.
If you're looking for violence, cool fights, and the fun characters from the franchise, then you'll enjoy the film. At the same time, this is where the film disappoints: it offers nothing new, no expansion upon the legends, only what we've already seen before. The plot moves along nicely enough, the acting and writing is what you'd expect, the sets are fun, and the fighting is well done. If that's all you want, great, but if you were hoping for a film closer to "Warcraft", then you might be left wanting.
It isn't that the film is bad, because it's not. It's fun, endearing, and enjoyable, but it was too basic, too ordinary for such an epic story and lore. Down-on-his luck fighter's career is going the wrong direction, his psyche buoyed only by his loving family…I wanted more fantasy, more history, more research into and knowledge regarding previous tournaments. Instead, the movie gives us a loving family's tale of overcoming long odds, with lots of gore on the side.
I thought it was okay and fairly enjoyable, but also a wasted opportunity to be great. I'll go to a sequel if they make one and I won't criticize this one too much, but I won't recommend it too emphatically either.