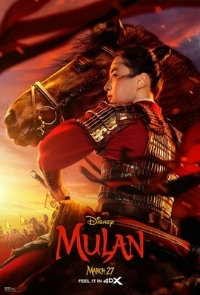 Mulan
Directed by: Niki Caro
Written by: Rick Jaffa, Amanda Silver, Elizabeth Martin, and Lauren Hynek
Starring: Yifei Liu, Donnie Yen, Li Gong, Jet Li, Jason Scott Lee, Yoson An, Tzi Ma, Rosalind Chao, Xana Tang, Ron Yuan, Jun Yu, Chen Tang, Doua Moua, Jimmy Wong, Nelson Lee
Reviewed by: Brad Williamson
Genre: Historical / War / Fantasy
Score: 4/5
Based on current reviews and opinions, this is one of my most controversial write-ups. Still, I'm going with my gut and out on a limb to say that the movie was fantastic. In Mulan we finally have a Disney remake that becomes a classic of its own, possibly even eclipsing its great predecessor. It pays homage throughout while standing on its own, telling the story in a brilliantly new and elegant way.
Due to the delayed release, lack of music, and divergence in plot from the original I believe Mulan has been dealt an unfair hand in the court of popular opinion. But these are the very reasons why I thought it worked so well, why I loved it so much. It uses the tones and moods of the original, transferring them into a far more serious, contemplative, and brutal film.
The direction is spectacular. Every scene is important, purposeful, and well-made. The switches between Mulan and the nomads are fluid and natural, the references to the original placed in the background yet noticeable for fans of the animation. And the songs were inserted into scenes without words and successfully convey layered emotions.
The deeper themes come farther into focus here. The original is more about feminism; this one illustrates the broader uselessness of tradition and the harm that comes from refusing to let go of the past. It still poses important questions regarding equality, but it doesn't stop there.
The acting is also great. Each performance is powerful yet subtle. No one truly stands out because everyone is equally wonderful. They're also great whether participating in a dramatic conversation or fighting, which brings us to the choreography. Both the one-on-one fights and larger battles are excellent and fun, violent yet not gory.
In a movie with so many good aspects, the sets really stand out. The plains, the mountains, the uniquely crafted villages, the capital city, the geysers, every scene is gorgeous. It might sound strange to hear about a Disney film, but I couldn't help comparing this film to other great war movies with amazing sets and deep emotions, like The Last Samurai and Braveheart. It has that same raw energy and heart beating under the surface of every moment.
I truly believe that people will look back on these remakes in a couple of decades and Mulan will stand out, but due to a variety of reasons it's currently being overlooked and misjudged. This is disappointing, but it's not the first time this has happened. I give it a great score and recommend it to everyone. Go in with an open mind and maybe don't refresh your memory by watching the animation; just go watch it for yourself.