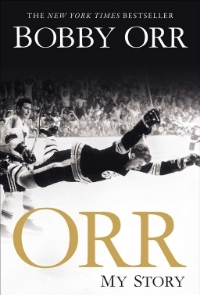 Orr: My Story
Written by: Bobby Orr
Reviewed by: Rob Leicht
Genre: Sports / Autobiography
Score: 3/5
Bobby Orr is widely considered one of the greatest hockey players of all time. For a decade long stretch in the 60s and 70s Orr dominated the game. There were things he could do on the ice that no player had done before or has been able to do since. His career ended well before my time, but I've always enjoyed watching Bobby Orr highlights and have great respect for what he achieved. As great as a hockey player that Orr was, he is an even better human being. His modesty and aversion to criticizing others helps to make him an exemplary person, but it does not always make for an exciting autobiography.
Orr's stories of growing up in small town Canada playing pond hockey are fascinating, and I was constantly reminded of my own memories of playing sandlot baseball. It is strange to think that I connect more with Orr's childhood spent playing sports in the 1950s than I do with modern kids and the over-organized state of youth sports.. With the positive role models Bobby had, in the form of his parents and coaches, it is easy to see how he grew to be the gentleman that he is. The lessons and morals instilled in him growing up are good practices for life in general, not just hockey – the value of hard work and the role of commitment and sacrifice when it comes to fulfilling your goals.
While I enjoyed Orr's commentary on the modern game and rule changes he would like to see implemented, this is one of the only areas where you feel like you get inside his head. This is particularly true in regards to the chapters on his professional career, which are essentially a season by season rundown of the Bruins' team accomplishments. Because Orr does not talk about any of his own statistics or accolades the personal connection is lost. When he mentions that the Bruins had six players score 20 or more goals in a particular season, the omission of the fact that he led the entire NHL in points that year is noticeable and possibly confusing to anyone not already familiar with his career. Orr makes it clear early on that he did not write this book for the purpose of dishing dirt, but I was still expecting more locker room and on-ice stories. The few instances of this in the book are interesting and often funny. Unfortunately, much of the time the on-ice description reads like the transcript of a television play-by-play announcer calling a game (which Orr did some of after his playing days were over).
Mirroring the man himself, the book comes across as genuine and is often insightful, but it does suffer because of Orr's extreme modesty. A straightforward and unpretentious read, I would suggest this book to any player, coach, or parent associated with youth hockey.