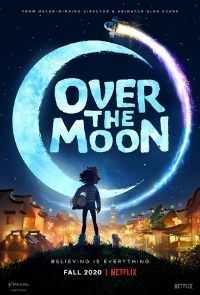 Over the Moon
Directed by: Glen Keane
Written by: Audrey Wells, Alice Wu, Jennifer Yee McDevitt
Starring: Cathy Ang, Phillipa Soo, Ken Jeong, John Cho, Margaret Cho, Sandra Oh, Ruthie Ann Miles
Reviewed by: Rob Leicht
Genre: Animated
Score: 2.5/5
If you weren't aware, The Streaming Wars are officially on. While Netflix is the reigning big dog on the block, Disney has an infinite budget and 90 years of name recognition. With its newest movie, Netflix is hoping to give the competition a dose of its own medicine. Over the Moon is the feature length directorial debut from the legendary Disney character animator Glen Keane, responsible for such classics as The Beauty and the Beast, Aladdin, and Tarzan. The film follows twelve year old Fei Fei, voiced by Cathy Ang, who builds a rocket to the moon following the death of her mother. Steeped in Chinese mythology and featuring always relevant lessons about grief and loss, the Netflix original has all the right ingredients – in theory. But while Over the Moon is visually impressive, it fails to conjure that Disney magic.
As expected considering the source, the entire movie is gorgeous. Over the Moon begins in an ultra-realistic animation style mirroring the modern China setting. As Fei Fei builds her rocket the story shifts to the fantastical, and the animation follows suit. By the time she arrives in the moon city of Lunaria, the animation is a full blown technicolor dreamland complete with giant flying frogs. The sudden shift can be jarring. Lunaria's surrealistic kaleidoscope setting just does not carry the same emotional weight. The animation is not the only aspect that suffers from the moon's lower gravity either. The already thin plot falters here as well. Nothing new is brought to the table in regards to Fei Fei dealing with her grief. In the end we are left with the same dead parent tropes we've seen ad infinitum.
There are a couple of aspects of the film that I was ecstatic to see, even as they failed to affect my overall enjoyment of the film. For one, it is great that Netflix has put out an animated film featuring a cast that is almost entirely Asian and Asian-American without the usual character white-washing. And even more so, I absolutely loved that the science was not entirely glossed over in Fei Fei's construction of her rocket. There are several scenes of her studying and agonizing over the mathematics required of such an endeavor.
In the end, Over the Moon never really hit its stride. I can't help but feel that it should have leaned a little heavier into the Chinese culture and mythology. Then it possibly could have avoided the tropes and pitfalls that made it seem like just another generic animated film. While the eyes may be thrilled, Over the Moon never touches the heart.