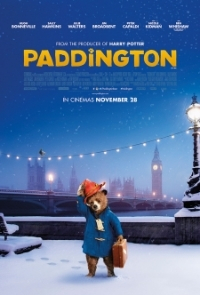 Paddington
Directed by: Paul King
Written by: Paul King
Starring: Michael Gambon, Imelda Staunton, Ben Whishaw, Madeleine Harris, Samuel Joslin, Sally Hawkins, Hugh Bonneville, Julie Walters, Tim Downie, Madeleine Worrall
Reviewed by: Brad Williamson
Genre: Adventure
Score: 4/5
In my mind Paddington is forever paired with Hugo. Both movies were unexpected treasures that I asked nothing from but which absolutely blew me away. I didn't watch Paddington for many years because I wasn't interested in seeing it; I didn't believe it had anything to offer me. I watch hundreds of movies every year, but I don't view films that don't appeal to me in some way.
But did I ever miss the mark on this one.
For those who don't know, Paddington is a talking bear with no apparent relation to Pooh. After first contact with a human explorer, Paddington's family and creche learn they can speak, so they learn English. The movie is about Paddington's adventures in England after he learns to speak and moves from the Peruvian jungle to Europe.
Sounds ridiculously childish, right? In many ways it is, but that doesn't stop it from being a wonderful movie full of touching scenes, funny moments, great animation, solid acting, and a great third act. There isn't a lot to dissect with this film. At its roots it is very simple, but that is also its primary joy. It's pure, and it has something to say to everyone.
Highly recommended.