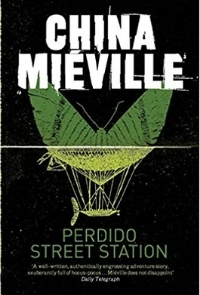 Perdido Street Station: Bas-Lag - Volume I
Written by: China Miéville
Reviewed by: Brad Williamson
Genre: Science-Fiction / Fantasy
Score: 5/5
Never before has hard science been so entertaining; it has been interesting, educational, and thought-provoking, but Miéville changes the paradigm and makes it pure fun. It's also not real.
Whereas most authors create races with languages, worlds and cultures, characters and their crises, Miéville has created an alternative physical reality wherein science works differently, but it still works. Oh, and he made all those other things, too.
And that's just the general tone of the novel, its spine. His characters are vibrant and beautiful, varied and flawed, while the city is grand and gritty, grotesque and great. The plot is non-stop adrenaline that makes sense and never ceases to impress and surprise.
Oh, and as always, Miéville's prose is spectacular. It's not only the characters and settings that jump of the page–it's how he writes them so eloquently, so effortlessly original and fresh and unlike anything before.
Rarely has any book from any genre been so fun, memorable, or clearly realized. I recommend it to any fan of science-fiction, fantasy, or reading in general and I consider it a near-perfect novel.