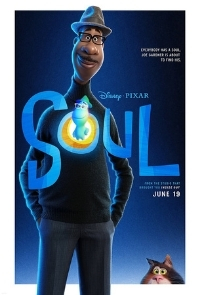 Soul
Directed by: Pete Docter and Kemp Powers

Written by: Pete Docter, Mike Jones, and Kemp Powers
Starring: Jamie Foxx, Tina Fey, Graham Norton, Rachel House, Alice Braga, Richard Ayoade, Phylicia Rashad, Donnell Rawlings, Angela Bassett
Reviewed by: Brad Williamson
Genre: Animation
Score: 4.5/5
Pixar on the big screen. I didn't need a reminder, but movies like this are why the cinema should not, no — cannot fade away.
One of the heaviest and most mature animations in a long time, "Soul" asks deep questions about death, depression, religion, race, and, of course, music. It's also a majestically animated film with a unique and touching score. You'll leave the theater thrilled at having watched it, but even better is that you'll remain impressed by the film for hours and days afterward. It's one of those that sticks with you.
The animation is not only some of Pixar's best ever, but is possibly their most creative. As animation evolves, it attempts to inch closer to reality. Although this is undeniably great in some movies, it's wonderful to see a movie like "Soul" employ stylistic and, for lack of a better word, trippy effects. The blending of these two styles — the hyper-realized animation of the living plane and the psychedelic explosions of the great beyond — is at the heart of the experience; the themes and music might be about soul, but the animation is all heart.
The voice acting is also phenomenal.  Every voice, expression, and nuance fits each character and scene perfectly. The score is woven into the film as a sort of peripheral character, which works seamlessly. The dialogue, music, sound effects, and mysterious workings of the æther all co-exist harmoniously and with great purpose.
If the themes and sound are the soul, and the animation is the heart, then the plot is the brain. Without a powerful and sensible map on which to animate and preach, "Soul" could have fallen on deaf ears, but the story is immersive and interesting. These puzzle pieces fit together perfectly as the film comes to life, all these aspects comingling, finely tuned instruments pulling at our emotions and showing us what life should be all about.
It's difficult not to compare this to other Pixar movies, "Inside Out", "Coco", and "Up" in particular, but it truly is something completely new despite the obvious similarities. It's also a great film that I highly recommend to everyone.