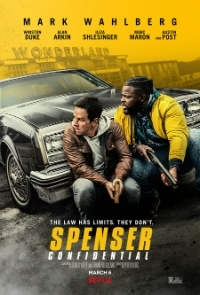 Spenser Confidential
Directed by: Peter Berg
Written by: Sean O'Keefe and Brian Helgeland
Starring: Mark Wahlberg, Winston Duke, Alan Arkin, Iliza Shlesinger, Hope Olaide Wilson, Wilson Bokeem Woodbine
Reviewed by: Brad Williamson
Genre: Action / Comedy
Score: 1.5/5
I wanted to like this movie and the acting was, in general, decent, but it was very far from a good film.
Arkin, Wahlberg, and, despite her brief screen time, Hope Olaide Wilson were very good (I would unabashedly call her the film's standout), everyone else was acceptable, and Shlesinger got dealt a bad hand. I can easily imagine her being funnier than Melissa McCarthy and Amy Poehler, but her part in this movie was poorly conceived and even more poorly written. I would have also liked to see more from Winston Duke; he was intriguing but his acting felt boxed in and a bit stagnant. This might be attributable to the same issue as Shlesinger in that they both acted well but were given bad roles, or good roles written carelessly.
The plot was so simple and transparent it was painful. The action scenes weren't thrilling and the comedic scenes weren't funny. Then there were several scenes that were absolutely nothing and shouldn't have been included in the movie, either distracting from more important matters or appearing completely out of the aether with no entertainment value.
But the movie looked and felt like an equal to Hitman's Bodyguard, and other similar (better) action comedies, so why wasn't it and where did it fall short?
When a movie is acted well, has good cinematography, is rooted in successful source material, comes with a budget and marketing, and still fails, there is only one person to blame: the director. And in fact, Peter Berg has done this type of film before with Hancock, another offering butchered by poorly executed direction. He's not a bad director, but maybe he needs to stick to the small screen. And in fact, this movie felt like a decent television pilot; maybe they should have gone that direction with it instead and it could have been much improved.
Not recommended unless you have two hours to waste on the couch.