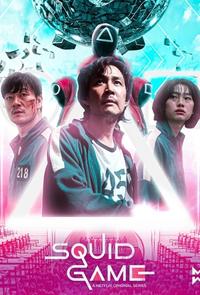 Squid Game
Directed by: Hwang Dong-hyuk
Written by: Hwang Dong-hyuk 
Starring: Lee Jung-jae, Park Hae-soo, Greg Chun, Stephen Fu, Tom Choi, Rama Vallury, Wi Ha-Joon, Jung Hoyeon, Paul Nakauchi, Hideo Kimura, Stephanie Komure, Vivian Lu, Halley Kim, Oh Yeong-su, Heo Sung-tae, Anupam Tripathi, Kim Joo-Ryung, Donald Chang, Lee Byung-hun, Gong Yoo, Yuuki Luna
Reviewed by: Brad Williamson
Genre: Dystopian
Score: 4/5
Anyone familiar with Battle Royale, Hunger Games, or Hostel won't be surprised by the themes and graphic content found within "Squid Game", yet in many ways the show succeeds in being something completely fresh and new. The acting, sets, pacing, direction, sincerity, important themes, and shock value all add up to something truly great.
At the forefront of the show's success is the collection of great acting performances. The characters are varied and interesting; the actors and actresses playing them believable and powerful. Quite often it's easy to lose yourself within the show, believing them to be real people with heart-wrenching issues. All entertainment and emotion the show delivers begins with these great performances.
More subtly, the plot structure is well conceived and brilliantly executed. From the introduction of the show and root of its title, to the genre-centric twists, to the idiosyncrasies that differentiate it from other similar productions, there is always something nagging in the rear of one's mind while watching "Squid Game" that adds up to more than the sum of its parts. It's a smooth viewing experience that communicates everything it intends to while providing shock, entertainment, introspection, and heart.
The sets are grandiose, weird, and beautiful. Despite the strangeness, everything feels real and, therefore, all the more terrifying. This is one of the very best programs that Netflix has ever produced; fans of science-fiction, dystopian worlds, thrillers, mysteries, and foreign cinema will not want to miss this great show. Highly recommended.