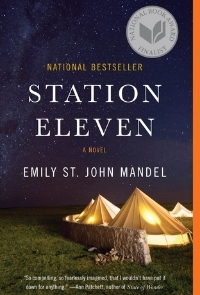 Station Eleven
Written By: Emily St. John Mandel
Reviewed by: Brad Williamson
Genre: Post-Apocalyptic / Suspense
Score: 4/5
With an opening scene that leaves one wondering how the book is post-apocalyptic, as advertised, yet still marveling at Mandel's simple yet elegant prose and willing to read on anyway, she certainly hooks you.
You immediately fall in love with Jeevan and the setting rapidly evolves, but then we leave him and leap ahead. And while these abrupt jumps through time, place, and perspective become all too common through the book, the reader is never left feeling confused or disappointed. Through Mandel's clear yet gripping writing, every plot line becomes an eagerly anticipated next scene, and despite the time shifts, somehow, one never feels lost.
And it is through these shifts that she sifts out details for you in such a natural, simplistic way that the book's complex structure shouldn't allow. Nevertheless, everything converges through time and place to form an absolutely gorgeous and picture-perfect story.
With a perspective of positivity unique to the genre—while maintaining its hallmarks of fear, violence, and tension—she paints her ideas and characters onto your mind as if the story were non-fiction and she simply retelling it.
By the end of the book you're once again questioning its genre, but that's a large part of this work's beauty: it defines labels, elevating itself firmly onto a level most books never even glimpse.