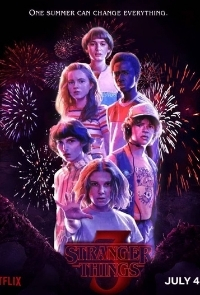 Stranger Things: Season 3
Created by: Matt Duffer and Ross Duffer
Starring: Winona Ryder, David Harbour, Finn Wolfhard, Millie Bobby Brown, Caleb McLaughlin, Natalia Dyer, Charlie Heaton, Joe Keery, Cara Buono, Gaten Matarazzo, Dacre Montgomery
Reviewed by: Brad Williamson
Genre: Comedy / Monster
Score: 2/5
For those who have viewed previous seasons, the tone, plot, and themes will feel familiar because, well, not much has changed. However, this safe familiarity manages to be more charming than stale. Still, this season is not without both its great moments and major flaws.
It starts by asking whether or not everyone truly wanted Eleven to close the gateway, or at least it seems like that is the question being posed with the tentative story telling. After all, maybe we could use the upside-down as a…as an energy source? This scene immediately raises many more questions than answers, and is the major downfall of the season: while some of the questions are answered (kind of?), so many more are left unaddressed. How did these mysterious Russians get here? The scenes with the mayor explaining he was threatened are insufficient to explain such a strange situation. Who are they? What is the green fuel they use? What energy are they shooting at the gateway and why is this energy causing it to open? How did they know how to open it? Why do they want to open it? These questions don't need to be answered conclusively, but the issue is that answers are not even tentatively posed.
"Smirnoff" helps answer a few lingering issues, but many are left hanging. I assume season 4 plans to answer many of these plot concerns, but one of the charms of Stranger Things has always been satisfying endings, not cliff-hangers that the directors probably don't even know how to convincingly put to rest.
All that said, and despite its shortcomings, it is highly enjoyable and moves along at a rapid pace after the initial slow-burning opener.
Hopper remains not only annoying, but actually seems like a bad person throughout much of the season; the teenage relationships, however, are for the most part enjoyable.
Overall, even with its shining moments and the potential for future seasons to help this season in retrospect, it just doesn't stand on its own as well as previous seasons. That it's still so enjoyable and fun speaks to the quality of the show's premise, but something was lacking during this go-round.