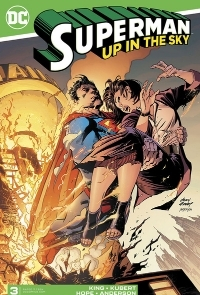 Superman: Up in the Sky #3
Written by: Tom King
Artist: Andy Kubert
Reviewed by: Joe Bones
Genre: Comic
Score: 3.5/5
Before delving into this review for volume III make sure you read our reviews of volumes I and II.
Issue #3 contains parts 5 and 6 of the Superman story originally published in the WalMart exclusive Superman: Giant collection. Part 5, "The Thousand Deaths of Lois Lane" was one of my favorite sequences in this story so far. King continues to make Superman a very human character. This is obviously quite the feat considering this is a story about a Demigod traversing the cosmos in search of a kidnapped little girl. In this portion of the story, we find Superman at an intergalactic communication hub, waiting on Lois Lane to return his call. As Superman deals with the communication hub's bureaucracy and awaits word from his wife, his anxiety is palpable. Kubert does an amazing job of conveying our hero's emotions; and that's before Superman begins imagining all the horrible fates that may have befallen his beloved, keeping her from returning his call.
Part 5 might have been one of my favorite sequences but Part 6, "Just a Little Further," was my least favorite sequence so far. This portion of the story was by no means bad, but I felt it was out of place. Part 6 features Superman teaming up with Sergeant Rock, a character from the days when comic book publishers printed fictional war stories. King writes Sergeant Rock well, and has featured him in several short comic stories in recent years. So it's not a surprise for King to use this character, but what is a little surprising is that he would show up in what has up until now been more of a Sci‐Fi, galactic journey type of story. Part 6 is a really well done WWII story, and King explains how Superman suddenly finds himself flung into the past, but this segment of Superman: Up in the Sky just doesn't feel like it fits with what's happened in the story so far.
Although the stories within it are entertaining, Superman: Up in the Sky #3 doesn't really advance the story's plot. However, if I have to read filler issues, then I want those issues to be written by Tom King. King continues to play to his strengths, delivering a fun adventure featuring a very humanized take on the Man of Steel.