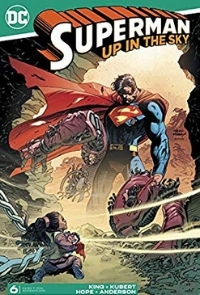 Superman: Up In The Sky - Volumes 4-6
Written by: Tom King
Art by: Andy Kubert
Ink by: Sandra Hope
Color by: Brad Anderson
Letters by: Clayton Cowles
Reviewed by: Joe Bones
Genre: Comic
Score: 5/5
In the final three issues of Superman: Up in the Sky, the conclusion to the mini-series originally published in the Wal-Mart exclusive Superman Giant, Superman continues his intergalactic quest to rescue a little girl who has been kidnapped by aliens. Superman's search for the little girl is the overall theme for the entire mini-series, but each story is presented as a vignette. Each part of this story pushes the plot forward while also examining Superman's character. In each section of the storyline, writer Tom King takes on a different aspect of Superman's nature and ideology. Each vignette explores such topics as what it means to be Superman, how Superman inspires hope, and how far Superman is willing to go to save the little girl. These explorations offer many powerful moments and King does an amazing job of presenting Superman as a human character and not just an alien demigod.
King and artist Andy Kubert have worked together before and each brings out the best in the other's talents. Kubert is a master at using pictures to tell a story. Even without dialogue on the page, the reader is able to follow the storyline. Kubert's art really sells the emotional moments in King's scripts, yet he is also able to convey the intensity of battle in the action scenes and the vastness of the universe in the scenes set in space or on alien worlds. Inker Sandra Hope's work should also be commended. She does a great job of highlighting Kubert's line work without losing any of the detail he puts into his drawings.
In a world of often disappointing comic mini-series, Superman: Up in the Sky stands out. Each part of the story could be a stand-alone tale. Yet each part comes together to tell a complete and compelling story. In addition, the story is much more than just the tale of Superman's search for a kidnapped victim. Each chapter explores the core themes that make Superman such an iconic hero. Throw in expressive and highly detailed art and Up in the Sky becomes an exciting intergalactic adventure with a deep meaning.