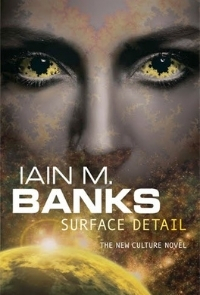 Surface Detail - Culture: Volume VIII
Written by: Iain M. Banks
Reviewed by: Brad Williamson 
Genre: Science-Fiction
Score: 4.5/5
This may not be Banks's best work or his most entertaining, or even most thoughtful, but this is where his writing style and playfulness shines the most, and it may be my favorite of all his novels. He found a balance in this book that he began searching for in Use of Weapons and utilized in every subsequent offering, but only perfected it here. I will keep this focused on Surface Detail, but I would like to take a moment to honor Banks's memory and consider what greatness he might have written with additional years.
While many fans and critics laud Use of Weapons, I think it is one of Banks's most flawed works; not to say it was bad, but there was a lot he tried and failed to do, and the book felt confused instead of complex. However, Surface Detail represents the work of his closest to a successful Use of Weapons.
The characters were unique and variously motivated, we yet again learn more about the Culture—even after 7 previous tomes—its minds, and the wider galactic meta-civilization, as he terms it. Meanwhile, the new settings were fantastic, dancing back and forth between levels of civilization and technology flawlessly and entertainingly.
This book also felt like his first true space opera. Though his works are normally termed this, and the line can be fuzzy, I generally find his action to be just enough on the periphery, though violently unsettling when it roars into focus, that his books have more of a soft sci-fi feel, with links between them forming the operatic mythos. The collection is an opera, but each individual work is contained. This, however, is an opera by itself.
It is epic, long, complex, original, shocking, fun, boring at parts in good ways, thoughtful, and in his amazing trademark style drops a bomb at the end that forces one to believe he had much more to write about the Culture upon his unfortunate passing.
It was not his final book, but it stands as a great memorial to his talent, ideas, and mind. An appreciated yet still underappreciated modern classic that I believe time will help elevate to the highest level of science-fiction lore.