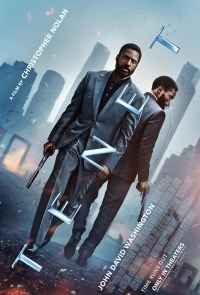 Tenet
Directed by: Christopher Nolan
Written by: Christopher Nolan
Starring: Elizabeth Debicki, John David Washington, Robert Pattinson, Aaron Taylor-Johnson , Kenneth Branagh, Clémence Poésy, Fiona Dourif, Michael Caine

Reviewed by: Brad Williamson
Genre: Science-fiction / Action
Score: 4/5
The meaning and purpose of the title of the movie goes totally unexplained if you're looking for guidance while watching the film, but it's a palindrome. Beyond that, I've no clue, but maybe that's all you need to know about it to understand its significance. Much like the rest of the movie, a full explanation is always just out of reach, but the allure, entertainment, and mystery is more than enough to keep a wide range of viewers engrossed until long after the heartfelt, yet frustrating ending.
I usually review movies immediately after viewing them, but I couldn't do this with Tenet. It's just too complex, too strange, too obscure to fairly analyze mere hours after watching; now, even a week afterwards, I'm not sure what I think about it, what it all means, or what rating it deserves, so I'll start with my gut instinct.
It was awesome. It was a blast. It was deep, thoughtful, remarkably condensed and streamlined, intricate, well-acted, visually stunning, auditorily spectacular, brilliantly conceived, outrageously confusing without being able to pause and think about scenes, and possibly the slightest bit disappointing.
The sound was crisp. Some movies remind you why sound effects and soundtracks are so important, and this is one of those. Every noise, note, and silence was perfect and my ears were ringing in a good way as we left the theater. It may seem a small aspect of such a big movie, but without this amazing sound the action scenes wouldn't be nearly so realistic and mesmerizing, and the core of the movie would have been harmed.
The pace of the movie was unlike anything I've ever experienced on the big screen, or on the small. It was a two-and-a-half-hour movie, but it felt like two and a half seasons of a television series. Every scene was condensed to overload you with so many details, so much action, just so much stuff, that it can be jarring to watch all in one go. Some vital characters and conversations are just one-offs that could be expanded into their own, great television episodes, but in the movie only require three or four minutes. Then you have to digest all that information, move on to the next scene, and pay attention just as intently because it never lets go, never relents. 
Still, it does make sense; it's possible to follow along and understand if you make the effort. Until the end. I think the complexity does catch up with the film and by the end it's not simply complex, but slightly unexplained. This doesn't really harm the quality of the film, because there's always a lingering thought saying to you, it's not unexplained–you just need to watch it a few more times.
So much of it, despite the confusion, does make sense, so you lean towards giving it the benefit of doubt and trusting that it's just too convoluted, too unusual to be fully comprehended during an initial viewing.
The acting and visual effects were both top-notch. It's impossible to not hear Denzel's voice whenever John David speaks, but he is definitely his own actor and not his father. They just sound the same. Every major and minor character pulled off their roles with uninterrupted brilliance. Pattinson in particular oozes with charm and Branagh, as one should expect, was Shakespearean in his portrayal of such a despicable character. Rarely have I seen a villain played so disgustingly well.
The choreography and action transpires at warp speed and is a joy to watch. It's easy to call it just an action movie, but action movies like this elevate the genre to a tier rarely seen.
Fair or not, Tenet is destined to be forever measured against Inception. The similarities are obvious: Christopher Nolan, action, science-fiction, big sounds and big action with big stars, the original scripts and stories. And although I ultimately–at least at this point in time–prefer Inception, I think the most remarkable thing about Tenet is that Nolan has done it once again, done something most other directors or novelists are lucky to accomplish even just once. It is a completely original film that tests the boundaries of cinema and thought while being an accessible, cohesive movie.
I'm still unsure what I thought of the ending, and a few things still seem sketchy even a week later, but I loved the film and am eager to experience it again. Recommended to just about everyone.