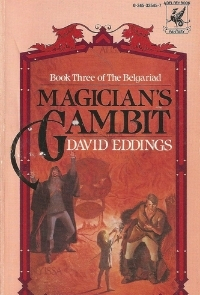 The Belgariad: Volume III - Magician's Gambit
Written by: David and Leigh Eddings
Reviewed by: Brad Williamson
Genre: Fantasy
Score: 4/5
With their trademark style, David and Leigh Eddings continue the story right where Queen of Sorcery leaves us, giving the reader a new map, a revealing prologue that grants the tale an added depth without confusing anyone, and that unique sense of joy which other tales scour the universe for and sometimes never find. Then, without wasting any time, the heroes are off to lands until now known only by name to the reader.
By now you know what to expect with these books, but what impresses me most is the consistency with which David and Leigh convey their amazing ideas, crisp prose, and characterization. Although some details remain the same — the format of the prologue, followed by new maps and parts named after lands, the overall story, the writing style and pace — it is incredible how they continue building upon what they started in Pawn of Prophecy to deliver books that simultaneously remain true to their origin while also expanding upon the ideas and characters. So often books, especially fantasy novels, become lost in their own world and forget their initial promises. The Belgariad never falters in this respect.
Magician's Gambit is neither better nor worse than Pawn of Prophecy or Queen of Sorcery; it is exactly the same, which is why it's so great, and is also why it's more than it seems.
If you've enjoyed previous Belgariad books, fantasy in general, or well conceived stories, then The Belgariad is for you. Highly recommended.