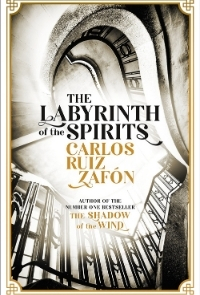 The Labyrinth of the Spirits
Written by: Carlos Ruiz Zafón
Reviewed by: Brad Williamson
Genre: Mystery / Suspense
Score: 4/5
Carlos Ruiz Zafón, probably most famous for his novel, The Shadow of the Wind, finishes his Cemetery of Forgotten Books saga with this staggering epic, aptly titled: The Labyrinth of the Spirits.
There are four books in the Forgotten Books series, and unlike in a traditional series, you can read them in any order. I read them as they've been released, so I can only comment on this particular order (Shadow of the Wind, Angel's Game, Prisoner of Heaven, and Labyrinth), but this book was a wonderful conclusion to the tale.
Zafón writes with a simple prose, but is capable of off-handedly flourishing a dazzling array of literary magic; this juxtaposition often helps make the grandiose sections feel heartfelt where they might seem overdone or even egotistical from other authors. With Zafón they feel tender and sincere.
His characters are so fully realized I can recall their faces more clearly (it's been more than five years since I read Prisoner of Heaven and I needed absolutely no refresher) than I can imagine what real people look like. Their actions and emotions are always pitch-perfect and everything makes sense, yet you're left guessing the entire time what will happen next and what's in store for them, for you, and for the city of Barcelona.
This book has mystery, action, great settings, amazing prose, intricate characters, pain and misery along with hope and love, and it's 800 pages long, so you'll be reading it for (hopefully) long enough to get your fill.
Recommended.