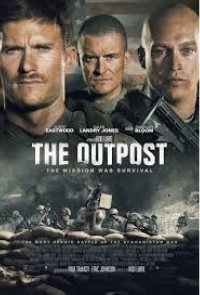 The Outpost
Directed by: Rod Lurie
Written by: Paul Tamasy and Eric Johnson
Starring: Scott Eastwood, Caleb Landry Jones, Orlando Bloom, Jack Kesy, Cory Hardrict, Milo Gibson, Jacob Scipio, Taylor John Smith, Jonathan Yunger, Alexander Arnold, George Arvidson, Will Attenborough, Chris Born, Ernest Cavazos, Scott Alda Coffey, Jack DeVos
Reviewed by: Brad Williamson
Genre: War
Score: 4/5
While I don't typically enjoy war movies, the best can be incredibly important to both film and history. Art like 1917 and Band of Brothers is vital in showing us the despicable nature of battle. Although war might be difficult to view, it is important to remember that it was worse for those who lived through it. The Outpost isn't quite a masterpiece of cinema, but it does everything a war movie should, and it does it all well.
It seems impossible to separate the subject matter from the film, but to fairly judge this movie one must do just this. Wherever your politics, this is not a political movie. It's about the young men who fought and died here, it's about the unfairness at times of life, it's about culture, and it's about sacrifice, whether you think theirs is worthwhile or not. You might disagree with a lot of the reasons why they're fighting in this movie, why all the death is shown in such detail, or any number of other issues, but this movie isn't about all that. Director Rod Lurie makes it clear that while he wants to show the military's hierarchy, motives, and values, he desires above all else to honor the sacrifice of these soldiers. It doesn't matter what you believe or how you picture the Afghanistan War, but the film asks you to remember the young men who perished here.
That the movie is more about honor and respect instead of blood and guts makes it more important to watch, but not easier. And a major reason why it's so difficult to watch is its brutality and realism. However, it does this in a way that separates it from other contemporaries: there isn't much gore. The battle scenes are difficult to watch for reasons outside of graphic wounds; they're painful because you grow to know and understand the characters, then view them enduring such a tragic situation. Not much of it is extremely graphic, but the quantity of death is staggering. Still, it's not because Lurie is obsessed with violence, no, it's because this many people really got injured and died here. It's important to keep this in mind. In this respect, I haven't seen a war movie this powerful since Saving Private Ryan.
The choreography is brilliant and brutal and full of gruelingly long shots. The camera work in particular is amazing, following the frantic movement so often backdropped by explosions and desolate landscapes with takes that seem to go on forever, much like the battle must have felt to the soldiers. The editing is also done with a respectful flare that is difficult not to overdo. This choreography, style, and editing all flow together into a very polished and meaningful final product.
Every actor is great. I couldn't find even one who didn't fill their role perfectly. If there is one area where the film is lacking it may be the basic, war-tongue-fueled script, but the cast takes this and runs with it. Not only was the acting excellent, but the casting choices were ideal. As far as casts go, this movie surpassed expectations.
If you want a happy movie, something to see on a date, or a film to view with your kids, this is not it. But if you want a film that might teach you something you didn't know, sticks with you long after you've finished watching, while impressing and disturbing in equal measure, then this is a good choice. Recommended to any historian, war enthusiast, and general lover of film.