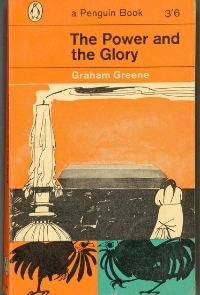 The Power and the Glory
Written by: Graham Greene
Reviewed by: Brad Williamson
Genre: Religious / Literary
Score: 1/5
A big trend propelling science-fiction the last few years has been a reevaluation of previously misrepresented authors and works, going both directions; some have been given their rightful due, while others have been disgraced because of their racist, sexist, or other inhumane themes and language. Graham Greene is the exact opposite of science-fiction, but I think it's time for a similar review of his most famous work, The Power and the Glory.
I wanted to enjoy this book, loved Greene's introduction to the edition I read, and was captivated by the first 100 pages, but by the conclusion I was tired of its slowly meandering style and excessive, boring dialogue. And I haven't yet addressed the overtly sexist language and actions scattered among the novel, lightly peppered as though it's characterization but tasting sour upon reading.
The novel opens with a flurry of character introductions, beautiful descriptions, and thought-provoking events that set the stage for various motivations and actions to come. It is a deep introspection on authority, religion, and circumstance. Then it sharply pivots away from this varied cast, morphing into a focused look into the mind and life of a sole protagonist. This misdirection is so abrupt, and the tone before and after so altered, that the novel feels like two different books. The problem is that these two books don't mix well.
A bigger problem is the almost-unanimous acceptance of this novel as great. Among other honors, it was selected by Time as one of the greatest novels ever. This list is often cited, but it is now almost 20 years out of date and thus out of touch; if published again today, I don't believe a book with sexist language written by an author who sexualized young children makes it into even the top-1,000-novel list.
For reference, here is Greene's review of Shirley Temple's movie Wee Willie Winkie:
The owners of a child star are like leaseholders — their property diminishes in value every year. Time's chariot is at their backs: before them acres of anonymity. What is Jackie Coogan now but a matrimonial squabble? Miss Shirley Temple's case, though, has peculiar interest: infancy with her is a disguise, her appeal is more secret and more adult. Already two years ago she was a fancy little piece — real childhood, I think, went out after The Littlest Rebel). In Captain January she wore trousers with the mature suggestiveness of a Dietrich: her neat and well-developed rump twisted in the tap-dance: her eyes had a sidelong searching coquetry. Now in Wee Willie Winkie, wearing short kilts, she is a complete totsy. Watch her swaggering stride across the Indian barrack-square: hear the gasp of excited expectation from her antique audience when the sergeant's palm is raised: watch the way she measures a man with agile studio eyes, with dimpled depravity. Adult emotions of love and grief glissade across the mask of childhood, a childhood skin-deep.

It is clever but it cannot last — middle aged men and clergymen — respond to her dubious coquetry, to the sight of her well-shaped and desirable little body, packed with enormous vitality, only because the safety curtain of story and dialogue drops between their intelligence and their desire. "Why are you making my Mummy cry?" – what could be purer than that? And the scene when dressed in a white nightdress she begs grandpa to take Mummy to a dance – what could be more virginal? On those lines in her new picture, made by John Ford, who directed The Informer, is horrifyingly competent. It isn't hard to stay to the last prattle and the last sob. The story — about an Afghan robber converted by Wee Willie Winkie to the British Raj — is a long way after Kipling. But we needn't be sour about that. Both stories are awful, but on the whole Hollywood's is the better.
Can you imagine a review like this being published today? Can you imagine a novel with similar language being praised and awarded, because I cannot.
But it goes beyond this controversy: the book is boring. It's also undeveloped and oftentimes very shallow. The pacing is inconsistent, the characters are unlikable, and the setting, though wonderfully introduced, goes unused for much of the story's final half. I don't see why the book still has such a high standing within the literary community, and I cannot recommend it except to people who wish to see for themselves this discrepancy between image and reality.