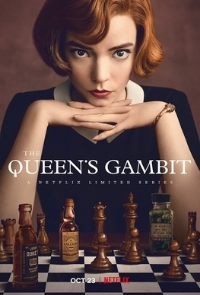 The Queen's Gambit
Directed by: Scott Frank
Written by: Scott Frank, Allan Scott, and Walter Tevis
Starring: Anya Taylor-Joy, Chloe Pirrie, Bill Camp, Marielle Heller, Marcin Dorocinski, Matthew Dennis Lewis, Russell Dennis Lewis, Thomas Brodie-Sangster, Moses Ingram, Harry Melling, Isla Johnston, Jacob Fortune-Lloyd
Reviewed by: Brad Williamson
Genre: Drama / Sport
Score: 3.5/5
Based on Walter Tevis's 1983 novel of the same name, The Queen's Gambit vaults up the list of Netflix's best productions with a collection of fabulous acting, great story, timely music, and sensible direction. Not only is it already one of Netflix's best, it's an instant sports classic.
Taylor-Joy plays her role perfectly, channeling her inner Emma Stone better than even Stone channels it. I believed for every moment of every scene that she truly was an orphaned, introverted addict. But upon reflection, I'm more impressed with Isla Johnston's handling of young Harmon's character. Without her tact and natural brilliance, upon which it must be said the character's foundation is built on, the rest of the story would lack power and relevance. Thankfully, she is perfect and seems to have a future in film if her roles here and in Amazon's upcoming Invasion are any indication.
The remainder of the cast, especially Moses Ingram and Bill Camp, shine when given a chance. Still, my one major complaint regarding The Queen's Gambit is how characters throughout the story are abruptly dropped, forgotten, and later retrieved, but only when it's convenient to do so for the story. This is ultimately a nonissue because of how well all the characters' returns are filmed and plotted, but it does make the viewer itch throughout the middle episodes as you're left wondering what's going on and where everyone is.
The period aspects were well done. In many ways, The Queen's Gambit owes much to Mindhunter; both are Netflix-produced historical pieces that were at least loosely based on real events. And if you've watched both shows, you'll notice ghosts of Mindhunter in the filming techniques, styles, and atmosphere of Queen's Gambit. I do not claim Gambit's crew copied or even used Mindhunter as a crutch, but it's becoming clear that Netflix is narrowing its focus and perfecting its craft. Should shows made up to par with Mindhunter and The Queen's Gambit become the new norm, then everyone is very, very lucky.
Chess is front and center throughout the show, which is great, but it's not simply the presence of the game that makes the show entertaining and satisfying. The clarity and precision with which they show the game's inner workings is a joy, while the character who is so naturally gifted yet doesn't know her history or basic terminology conveys an essence at the heart of chess that those unfamiliar with it would never otherwise understand without this beautiful portrayal.