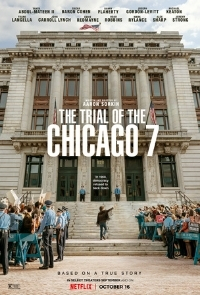 The Trial of the Chicago 7
Directed by: Aaron Sorkin
Written by: Aaron Sorkin
Starring: Eddie Redmayne, Alex Sharp, Sacha Baron Cohen, Jeremy Strong, John Carroll Lynch, Yahya Abdul-Mateen II, Mark Rylance, Joseph Gordon-Levitt, Ben Shenkman, J.C. MacKenzie, Frank Langella, Alice Kremelberg, Caitlin FitzGerald
Reviewed by: Brad Williamson
Genre: Drama / Biopic
Score: 4/5
Rarely have I seen a movie contain so many great acting performances; the writing was also direct, funny, and powerful. Mix these two aspects together and you don't need anything else to make one of the best courtroom dramas ever. Still, The Chicago 7 doesn't stop here–it also has a relevant, underappreciated story to tell. This all makes for a compelling and well-made film that should be universally praised.
The plot structure is also very well conceived and goes hand-in-hand with the script. Writer-directors often struggle doing both simultaneously, but Sorkin is up to the task here. The introduction is quick yet informative and entertaining, then the courtroom hits you in the face with a gavel. Just when you think it's going to be a long episode of The Practice, it begins to depict and dissect the events that lead to the trial. And yet this backstory distracts not a bit from the tense courtroom proceedings. Every scene, conversation, and moment is vital and fresh.
But I must return to the acting, the bedrock upon which this film is built. It would be impossible to properly praise every actor and actress who did an amazing job in this movie in such a short review, but I must highlight the true standouts: Sacha Baron Cohen, Jeremy Strong, Yahya Abdul-Mateen II, Mark Rylance, Frank Langella, Alice Kremelberg, Caitlin FitzGerald, Eddie Redmayne, and John Carroll Lynch. Hey, I told you it would be impossible to narrow this down, but each of these performances would be worthy of an Academy Award nomination under normal circumstances. They're all that good.
Cohen's amazing talents continue to go underrated because of his comedic side, but he consistently turns out some of the most powerful dramatic performances in recent memory with every role he takes. I honestly see him as a funnier, more functional Daniel Day Lewis, and you can quote me on that. Jeremy Strong had the tall task of playing opposite Cohen's imposing character, and in so doing portrayed an equally fascinating and captivating persona. The two together are a force with a rare chemistry and I'd love to see them work together in the future with a smaller cast.
Abdul-Mateen II does more with fewer words and less screen time than anyone since maybe Anthony Hopkins as Hannibal Lecter. He wields such power and ferocity with every line that I'm unsurprised by the massive upcoming roles he's landed, and I'm excited to see him in more films. Rylance and Langella are on another planet, possessed. I was truly in awe of both of them as the movie unfolded and developed. Perfection is the only word that aptly describes both performances.
Kremelberg and FitzGerald have relatively small roles, but they remain in your mind. Even surrounded by these other amazing characters and performances, theirs' fail to fade into the background. With their lines they snatch the attention away, even if just for seconds at a time, but they're glorious seconds that add to the film. An overlooked aspect of acting is fitting your role, and these amazing women obviously grasp this. They might not be household names yet, but with these talents and their roles they've lined up, expect to hear about them again down the road.
Redmayne, normally so flamboyant and wild, tones it down here, showing that he can play nicely next to others when asked to co-star. We all know his ability to single-handedly dominate and impress for the duration of an entire movie, but how well can he serve in an ensemble cast with diminished screen time? Here's your answer: brilliantly. He's splendid here in his depiction of a politically-minded dissenter. Last but not least, John Carroll Lynch serves us yet another side of the protests. He is absolutely believable as the peace-loving family man who just wants to improve society, and produces maybe the climax of the film when he loses his temper.
The way this film shows all the angles from which different people with various creeds come to agree that saving society, culture, and equality is worth sacrificing life and freedom is a wonder to behold. Highly recommended for everyone. One of the few films released during the pandemic that I've been genuinely disappointed in the lack of a theater. Watch it.