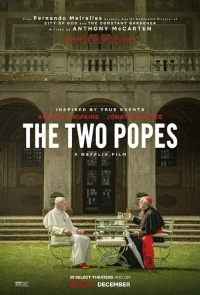 The Two Popes
Directed by: Fernando Meirelles
Written by: Anthony McCarten
Starring: Anthony Hopkins, Jonathan Pryce, Juan Minujín
Reviewed by: Brad Williamson
Genre: Drama, Biopic
Score: 3/5
As a story this film succeeds wonderfully, but as an entertaining movie it falls short of greatness. Still, it's one of Netflix's very best offerings to date. Though heavily doused with Catholicism, you don't need to be Catholic, or even religious, to feel the power of this tale.
The acting is phenomenal. Pryce and Hopkins become embodiments of their popes almost to the detriment of the film; they're so believable one forgets the movie isn't a documentary. Both performances are captivating, but a film needs more than two performances to feel complete.
My biggest issue with the film is that it doesn't seem to know what it wants to be: it opens as a drama with a large cast. It then drops all the complimentary characters in favor of a more intimate, introspective battle before thrusting the viewer into an extended flashback of Francis's backstory, culminating in them reconciling their differences. It is at once a drama, war, biopic, and history, but it is never any of these genres together, instead interspersing motifs and tones in a haphazard array of scenes that are individually great but fail to fully mesh into a cohesive whole.
The movie is good and it is recommended viewing, but it's neither complete as Spotlight nor powerful as Doubt. Go into it expecting an enlightening, solid retelling of this incredible story and you'll be pleased; if instead you're expecting a masterpiece of cinema, you'll likely feel a bit shortchanged.