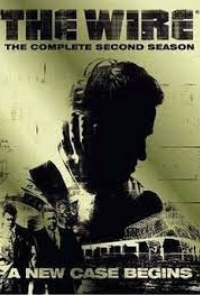 The Wire: Season 2
Created by: David Simon
Written by: David Simon, Ed Burns
Starring: Dominic West, John Doman, Deirdre Lovejoy, Wendell Pierce, Lance Reddick, Sonja Sohn, Seth Gilliam, Domenick Lombardozzi, Clarke Peters, Andre Royo, Michael Kenneth Williams, Jim True-Frost, Frankie Faison, Wood Harris, Idris Elba
Reviewed by: Brad Williamson
Genre: Crime
Score: 4.5/5
Season 2 kicks off where season 1 leaves us, but in ways that you'd never guess. Instead of just a case of cops against gangsters, the scope widens. Questions arise that make us second guess who the real criminals are, what dangers are worth fighting, and the very nature of crime. What is the value of policing when there will always be criminals?
It also catapults us from the problems of Baltimore to the problems of the country, and of the world, before concluding that the good guys can never win, or maybe they could win if the "good guys" weren't crooked as the "bad guys".
Season 2 focuses on one of Baltimore's deteriorating ports and the union of men and women who work the docks and container ships. Various degrees of crime enter the picture here and it's no longer cops versus robbers. For me, the most impressive aspect of this season is how it maintains the tension, mystery, and reality of its predecessor while also becoming something new in its own right, embracing both its past and its potential to ask new questions.
The acting and writing remain the primary strengths of the show. Every character is pitch perfect and full of emotion, every line and conversation subtle and street smart. Characters you hated in season 1, maybe you love them now as they develop, and maybe you also hate those you used to love, as they revert and show their true selves; still, nothing is fake or artificial. The interactions and relationships portrayed are real as anything experienced this side of the television screen.
The plot in season 2 is more interesting than in season 1, though, as new characters are introduced, new heroes and villains and everyone in between. The port is not simply a springboard for new episodes but is a foundation upon which to display an entirely new perspective of crime that frames the ugly truths of modern society unlike anything else.
At the end of the day, The Wire is not my favorite show. It is, however, very, very good and every fan of film or television should experience it.