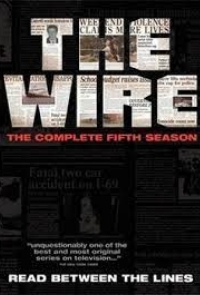 The Wire: Season 5
Created by: David Simon
Written by: David Simon, Ed Burns
Starring: Dominic West, John Doman, Deirdre Lovejoy, Wendell Pierce, Lance Reddick, Sonja Sohn, Seth Gilliam, Domenick Lombardozzi, Clarke Peters, Andre Royo, Michael Kenneth Williams, Jim True-Frost, Frankie Faison, Wood Harris, Idris Elba, Corey Parker Robinson, Delaney Williams, J.D. Williams, Aidan Gillen, Jamie Hector, Gbenga Akinnagbe, Robert Wisdom, Anwan Glover, Felicia Pearson, Robert F. Chew, Isiah Whitlock Jr., Michael Kostroff, Clark Johnson
Reviewed by: Brad Williamson
Genre: Crime
Score: 4/5
The final season of The Wire both introduces the media aspect of city life and returns to the show's roots with a dedicated plot, and oh what a plot it is.
McNulty is back at it again after fading into the background for a season or two. To finally secure the massive bust we've been waiting for all series he is willing to do anything and everything, but his plan is brazen, even for Jimmy McNulty; it would be brazen even for Vin Diesel. Though it is one of the most unrealistic aspects of the show, I can believe McNulty would do it, and furthermore, Dominic West's performance makes me believe that a real Jimmy McNulty might just be out there, may God have mercy on whatever city he calls home.
This season also brings out some of the best acting ever put to the small screen. Clarke Peters, Michael K. Williams, and Andre Royo are Oscar worthy in their portrayals of individuals with their backs to the wall and nothing to lose. Everyone else is phenomenal as the show simultaneously cranks up the tension and winds everything down.
If there is one disappointment, to me, it is in how they conclude the series. Despite how much every decision, choice, and plot development makes sense, I don't have to like it. This realism is the very fiber of the show's being, so it's appropriate that the final season might just be the most authentic of all, but I simply didn't enjoy where several of the pivotal  aspects are put to rest. This is a small criticism, and a very personal one, but I cannot convince myself that other viewers don't feel similarly.
But that's enough of tiny gripes: if you have enjoyed previous seasons of The Wire then you know what you're in for, kind of. The final season is true to everything the show has stood for and does justice to almost every character. Highly recommended.