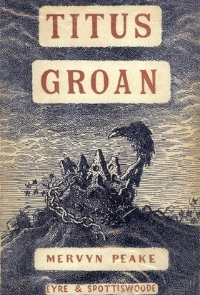 Titus Groan: Gormenghast - Volume I
Written by: Mervyn Peake
Reviewed by: Brad Williamson
Genre: Fiction / Fantasy
Score: 4.5/5
From its opening paragraph to its tumultuous climax to its final scenes Titus Groan delivers on every promise, possibility, and expectation. The characters feel straight out of a Dostoevsky novel, its setting eerie and interesting as anything H.P. Lovecraft ever envisioned, and the plot never stagnates.
The only thing keeping this book from a perfect score is that, while Gormenghast is presented as a trilogy, it isn't truly; it is a single, massive novel. This means that spectacular as Titus Groan is, the ending isn't fulfilling. Everything else about this novel, from the prose to the story to the interactions to the setting to the pace, is splendid and will surely give any reader joy.
It has something for everyone: intrigue and betrayals, mystery, overt fantasy, covert fantasy, comedy, horror, some of the best prose I've ever read from any era, rites and codes, strange happenings, feuds, history, a diverse world, broken traditions holding on past their time, and I could easily go on. Oh, and the book is not even 400 pages long.
It's not necessarily an easy book to read, but it's definitely fun and it isn't confusing; for those who avoid fantasy and see that this is often categorized as such (even I have done this), note that it's not really fantasy. If you could imagine a book written by Fyodor Dostoyevski, Edgar Allan Poe, H.P. Lovecraft, Jean Auel, and China Mieville, you'd be getting relatively close to the tone and feeling this novel presents, yet you'd still be miles away because Peake brings an intense mood that is fully his own.
Read this book.