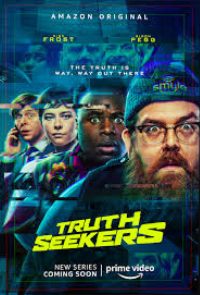 Truth Seekers - Season 1
Created by: Nick Frost, Simon Pegg, James Serafinowicz, and Nat Saunders
Directed by: Jim Field Smith
Starring: Nick Frost, Samson Kayo, Emma D'Arcy, Malcom McDowell, Simon Pegg, Susie Wokoma
Reviewed by: Rob Leicht
Genre: Comedy horror
Score: 4/5
Truth Seekers is the new Amazon Prime comedy horror series from the minds of Nick Frost and Simon Pegg. The series follows wireless installer Gus, played by Frost, who is an amateur paranormal investigator in his spare time. Frost is joined by Samson Kayo as Elton, his new partner, and they begin to experience strange happenings while on the job for broadband company Smyle. Together with the haunted and mysterious Astrid, Emma D'Arcy, they unravel a vast conspiracy involving ghosts, technology, a paranormal historian, and the very company they work for. Truth Seekers is filled with dry British comedy and cheeky one-liners without skimping on the creep factor. This is the ghost hunting adventure that you didn't know you needed but are glad you found.
Nick Frost and Simon Pegg are most well known as co-stars of the comedic genre films Shaun of the Dead, Hot Fuzz, and The World's End. Frost is excellent as surly but well-intentioned Gus and displays his usual excellent comedic timing and delivery. As great as Frost is, the best lines are reserved for Pegg as Gus's boss at Smyle and Malcolm McDowell as Gus's crotchety and aging father-in-law. They both shine in a couple of smaller roles. The series is so well-written though, that no single character truly outshines the others, and part of the joy in the series is watching them come together as the Truth Seekers.
While it is undeniably tongue-in-cheek, Truth Seekers does not neglect the horror elements. The scares are served up seriously and the production value is higher than expected. Some of the pop culture references may go over younger viewers heads, but otherwise the comedy comes from the characters reactions to the strange situations they find themselves in. While the series is only eight episodes, it contains a relatively complex plot. But it never feels rushed or overwhelming, thanks to sharp writing and expert foreshadowing. Every scene serves a specific purpose, culminating in the final episode which is a thirty minute thrill ride.
Wholly original, Amazon Prime's Truth Seekers is unlike anything else on television.